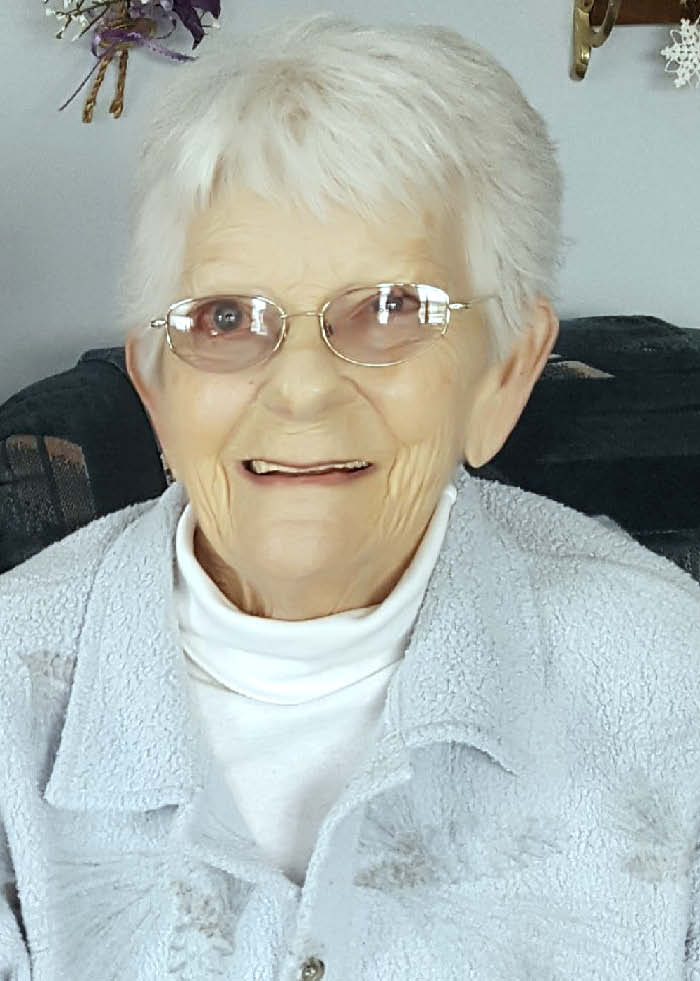 Joyce Marie Downing, 82, of Norwalk passed away peacefully Monday, May 14, 2018, at Norseland Nursing Home in Westby, Wis., surrounded by her family.

Joyce was born Oct. 1, 1935, to LeRoy Ruderic and Viva Agnes (Maxwell) Dunwald in Cazenovia, Wis. On Nov. 23, 1956, she married the love of her life, Philip "John" Downing, in Viroqua.

Early in their marriage, John and Joyce lived in Ontario and ran Ma & Pa's Café. They later moved to Verona, Wis., where Joyce worked at the Dane County Home, caring for patients — a job she loved, and they loved her! In 1972, John and Joyce purchased the Downing family farm and built their family home in rural Norwalk, where they lived the remainder of their lives.

After losing two daughters in an automobile accident, John and Joyce became loving house parents at a group home in Sparta. This was a job tailor-made for Joyce. The kids adored her and at times spent weekends on the farm with John and Joyce, and some remained in contact with them throughout the years. Joyce retired from Meca Sportswear in Ontario.

Upon retirement, Joyce and John purchased a motor home and traveled the United States, thoroughly enjoying those vacations.

Joyce and John were like Ginger Rogers and Fred Astaire and the envy of all on the dance floor. They so enjoyed teaching dance lessons at Brookwood High School.

Joyce lived in a little piece of paradise, where she enjoyed watching a variety of birds flock to her feeders. She also spent a lot of time creating a sanctuary in her beautiful flowerbeds to nourish her favorite hummingbirds. She enjoyed trips to the casino, quilting, crocheting, crosswords, and puzzles, but mostly she enjoyed being in the company of her wonderful family.

Joyce was a member of the Brush Creek Lutheran Church in Ontario, where she held the position of treasurer and generously volunteered her time and baked hundreds of pies and cookies for church activities and suppers.

Joyce is survived by two of her children, David (Coleen) Downing of Verona, Wis., and Phylis Dalldorf of Camanche, Iowa; a stepdaughter, Katherine (William) Nasseth of Stoddard, Wis.; her grandchildren, Troy (Karla) Downing, Tonia (Tony) Bastian, Amy Stuart, and Ethan and Evan Dalldorf; her great-grandchildren, Travis, Nathan, Ryan, Mackenzie, Payton, Piper, Harper and Kennedy; a brother, Harvey Dunwald of Ontario; sister-in-law, Lora Dunwald of Ontario; along with many amazing nieces, nephews, other relatives and friends.

Joyce was preceded in death by her husband John on March 12, 2018; two daughters in 1977, Dawn and Jody; her brothers, Lyall and LeRoy "June" Dunwald; and two sisters, Ella Mae "Sis" Mason and Lavina "Binnie" Moen.

Funeral services will be at 11 a.m. Saturday, June 2, at the Brush Creek Lutheran Church in rural Ontario. Pastor Gary Daines will officiate. Burial will follow in the Hilltop Rest Cemetery. Family and friends are invited for visitation Saturday, June 2, from 10 a.m. until the time of service.

The Torkelson Funeral Home of Ontario is assisting the family with arrangements.

Online condolences may be offered to www.torkelsonfuneralhome.com. Memorials may be made in Joyce's name to the Alzheimer's Association, 1523 Rose St #8, La Crosse, WI 54601, or to the Norseland Nursing Home, Westby, Wis.