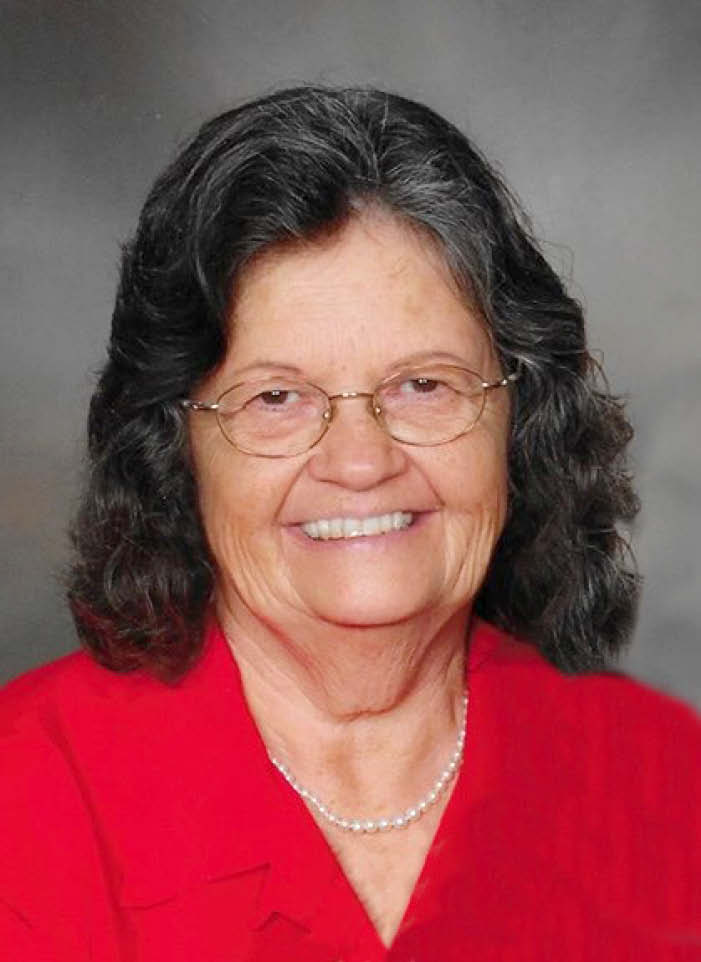 Joanne Meyer, 78, of Tomah went home to be with her Lord and Savior Jesus Christ on Dec. 4, 2017.
She was born Jan. 20, 1939, to Harold and Gladys (Wallace) Cox, the third of 10 children. She grew up on the ridge south of Tomah and attended Hillcrest Grade School. She graduated from Wilton High School in 1956. On Sept. 20, 1958, she married the love of her life, Harold (Harry) Meyer. God blessed this marriage with five children. 
Joanne's early years were spent in rural Wilton and then rural Tomah, where her parents and nine siblings worked as dairy farmers. Every member of the family contributed to the operation of the farm. One of Joanne's primary roles was feeding the chickens and then gathering the eggs. Joanne described her childhood as fun! Rather than being in the house, Joanne preferred spending much of her time with her father as he performed various tasks around the farm. She admired her parents immensely for never fighting and always talking things through. In spite of growing up during the Depression and World War II, Joanne said she never felt deprived or fearful.
Her life changed forever on the evening of Feb. 9, 1957, when she went to a wedding dance for a good friend. There, she had a conversation with the man who would be the love of her life, Harry Meyer. At the end of the conversation, the normally reserved Joanne worked up the nerve to say, "Why don't you come up and see me sometime?" The bold statement was the spark that started a romance with Harry. The two dated and knew they had something special. They were married on Sept. 20, 1958, at an evening service at St. John's Evangelical Lutheran Church in Ridgeville. 
Joanne reveled in being a housewife and mother, providing her husband and children with a safe, clean, comfortable home. Joanne put to work the lessons she had learned had growing up and was eager to employ her work ethic with Harry and his father Art on the 137-acre dairy farm on "the ridge" south of Tomah. In addition to helping in the fields and in the barn, she tended a garden every year and canned the bounty at the end of the growing season. Joanne was an exceptional cook, frequently wowing her family with tasty meals that are still remembered as the very best.
She nurtured her children well physically, emotionally and spiritually. She and Harry made a point of teaching them the truths of God's Word and made sure all five children attended worship, Sunday School and catechism class at St. John's Evangelical Lutheran Church in Ridgeville. 
The majority of the dairy farm was sold in 1970, and Joanne and Harry kept the two-story farmhouse at the intersection of Highway 131 and County Highway A. In 1974, Joanne and Harry purchased Ken's Bar in downtown Tomah and renamed it "The Corner Inn." Together she and Harry built a thriving business, providing customers with a comfortable place to relax and take a break from the worries of life. Always having a caring heart and a listening ear, Joanne served as a counselor and friend to many bar customers. Joanne was also a "mom" to many younger customers, offering sound advice and frequently pointing people to God from behind the bar.
Knowing that many bar customers had no one to share holidays with, Joanne made a point of preparing and serving a meal free of charge on Thanksgiving Day and Christmas day at the bar. After 30 very successful years, the bar was sold, and Harry and Joanne spent the next several years enjoying a comfortable retirement.
Joanne will be remembered as a gentle soul with a genuinely warm and loving smile that could light up a room. Music was an integral part of Joanne's life, and she loved to dance and sing. In her early years, she was influenced by the music of Eddie Arnold. As a young housewife doing housework, she frequently put on her favorite records, including Johnny Cash, Patsy Cline, Ray Price and many others. Throughout her life, Joanne continued to enjoy music and passed that love of music on to her children. 
She is survived by her husband of 59 years, Harry, and her children, Bryan (Brenda) Meyer of Tomah, Brad (Jenny) Meyer of Lawrenceville, Ga., Brent (Jayne) Meyer of Lawrenceville, Ga., Blaine (Anna) Meyer of Tomah, and Janeen (Ken) Folgers of Cataract, Wis.
She is also survived by her grandchildren, Matthew, Daniel, Andrew Meyer and Sarah (Matt) Scott; Jessica Meyer; Ashley and Amber Meyer; Brett and Scott Meyer; and Wyatt Folgers.
She is also survived by her brothers and sisters, Alice Leis Murray, Jim (Pat) Cox, Bob (Marlene) Cox, Linda (Ron) Shisler, Gary (Nadine) Cox, Wade (Connie) Cox, Royce Cox, and John Cox. She is further survived by many nieces and nephews. 
Joanne was preceded in death by her parents, Harold and Gladys Cox; her brother, Harold Jr.; and her infant grandson, Alex Folgers.
Funeral services will be at 11 a.m. Thursday, Dec. 7, at St. John's Evangelical Lutheran Church in Ridgeville. Pastor Matthew Minzlaff will officiate. Burial will follow in Oak Grove Cemetery in Tomah. Family and friends are invited for visitation from 3–7 p.m. Wednesday, Dec. 6, at the Torkelson Funeral Home in Tomah. Visitation also will be held from 10 a.m. until the time of service at the church on Thursday. In lieu of flowers, memorials may be made to St. John's Evangelical Lutheran Church.
The Torkelson Funeral Home of Tomah is assisting the family with arrangements. Online condolences are available at www.torkelsonfuneralhome.com.