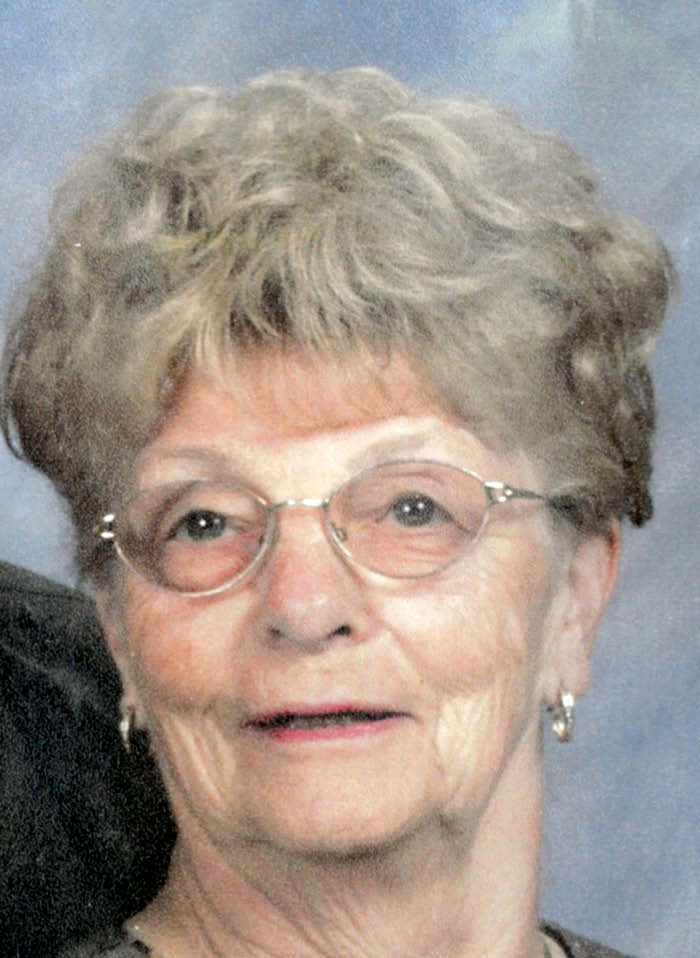 Helen Jane "Jenny" Muehlenkamp, 85, passed away peacefully, surrounded by family, at Creamery Creek Memory Care in Viroqua on June 25, 2020.

Jenny was born June 9, 1935. She was one of eight children born to Hubert and Loretta (Baus) Schmitz. She attended St. Mary's Catholic School on St. Mary's Ridge and graduated from Cashton High School in 1954.
In July 1953, Jenny was the "Miss Monroe County" representative in "The Miss Wisconsin" pageant in Reedsburg.
Jenny waitressed at a restaurant in Sparta when she was in high school. There was a young man who would come in to have her make him malts, and the rest is history! Jenny and Glenn were united in marriage June 23, 1954, at St. Mary's Ridge Catholic Church. To this union were born nine children, 26 grandchildren, 24 great-grandchildren and two more coming very soon. They are as follows: Daughter, Christine (Jerome) Leland, their daughters Kari (Mike O'Rourke) Leis, her daughter Kaylee Leis, and Staci Leland, her daughter Shelby Suhr-Leland; Son, Mike (Jill) Muehlenkamp; Daughter, Mary (Jerry) Nading, their children, Dan (Jessica Peck) Nading, his children Hudson and Sawyer, Jared (Kim) Nading, their daughters Paisley and Payton, Brennen (Jami Kollenbach) Nading, Aleatra (Casey) Olson, their sons Oakley and Nolan; Daughter, Patty (Jeff) Anderson, their children, Darrin (Sara) Anderson, their daughters Allie and Olive, Tori (Tyler) Erickson, their sons Tryg and Calloway, Kelsey (Brandon) Flock, their daughters Elaine and Emery, Jenna (Ben Sullivan) Anderson; Daughter, Kathy (Scott) Nelson, their children, Zachary (Abi Merriam) Nelson, Jeremy Nelson and Briana Nelson; Daughter, Sheri (Mike) Flock, their children, Amy (Vic) Wyttenbach, their children Alayna, Alivia and Levi, Emily (Paul) Rodriguez, their children Michael, Sophia, George and baby coming soon, Anna (Sessie) Agbley, their children Seyram and Novisi, Eric (Alexis) Flock, their children Addilynn, Ryker and baby coming soon and Ryan Flock; Son, Jon (Jana) Muehlenkamp, their children Kolin and Kendra; Son, Tom (Kathy) Muehlenkamp, their children Weston, Maggie, Ruby and Reagan; Daughter, Beth (James Gallagher) Muehlenkamp, her children Nadia and Cyrus Nateghi.
Jenny was a very hard-working mother and farm wife. She had multiple gardens for canning and freezing to feed her family and others. She was an excellent cook and a meticulous housekeeper. Being meticulous was a trait that was passed on to her daughters! She made sure her children were dressed just so, and it was said they had the whitest tennis shoes around! Jenny was famous for her homemade lye laundry soap. She scrubbed those tennis shoes until they were spotless!
Besides her busy life at home, she was always offering to help others. She was there for her parents, in-laws and family. When Jenny's mother-in-law had her stroke in 1983 and after Glenn's sister Addie died, Jenny made sure Glenn's stepdad was very well taken care of … right up until he passed away at the age of almost 102. Jenny was an active member of St. Augustine's Catholic Church and PCCW. Her faith was a very important part of her life. When her children were grown, she started working in the cafeteria at the Norwalk Grade School and continued when the Norwalk, Ontario and Wilton Elementary School was built. She retired from that job in 2008. One of her biggest accomplishments was co-chair of the 1994 Norwalk Centennial. She put many long hours and hard work into a celebration for all to enjoy over multiple days.
Jenny didn't have much time for hobbies, but she really enjoyed music, attending her family's musical programs and their concerts at school. She always encouraged them to be in band or choir and hoped they would learn to love playing the piano, organ, or guitar. Jenny enjoyed and participated in snowmobile racing, tractor pulling and going to the casino! She also spent many years watching her children participate in sports. One of Jenny and Glenn's favorite places to go was to Glenn's cousins' cabin in Shawano. A highlight of Jenny's life was when she and Glenn won a trip to Japan in 1973 through the Yamaha snowmobile business that she and Glenn owned, along with farming.
Jenny was preceded in death by her husband Glenn in 2014, her parents, her in-laws, one brother, one sister, two sisters-in-law, and one brother-in-law.
After Glenn's passing, Jenny was able to stay in her own home for about three years with the help of a few wonderful caregivers. The family thanks them for their help and care.
There will be a private funeral service for family. In lieu of flowers, if you so desire, memorials for Jenny can be made to the St. Augustine's PCCW, the Norwalk Public Library or the Norwalk-Ontario-Wilton Elementary School. Memorials may be sent to Christine Leland, 26485 County Hwy. T, Norwalk, WI 54658.
The family would like to express their sincere appreciation and gratitude for the exceptional care and love that our mother received at Creamery Creek Senior Living in Viroqua for the past two and a half years. She was truly loved by the staff, and she loved them. They were like family, and we can't thank them enough!
The family would also like to thank St. Croix Hospice for all the wonderful care and compassion shown during the past few weeks. They are an amazing organization!
Thank you to Father Michael Klos for being by mom's bedside.
The Torkelson Funeral Home of Tomah is assisting the family with arrangements. Online condolences are available at www.torkelsonfuneralhome.com.