Harriet I. Leis, 95, of Cashton passed away peacefully Sunday, Sept. 12, 2021, at Norseland Nursing Home in Westby, surrounded by her loving family.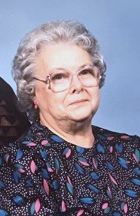 Harriet was born Jan. 19, 1926, to Walter and Anna (Gajewsky) Lord, the 10th of 11 children.  She was raised as a country girl on a farm in Brush Creek and graduated from Westby High School in 1944. Harriet married Floyd Leis on Dec. 13, 1947, and they made their home in Cashton, where they raised their family.  
Harriet is survived by four children, Kathryn (Edward) Marx of Cashton, Mary Kay Leis of Sparta, Douglas (Penny) Leis of Moorcroft, Wyo., and Jennifer (Randy) Brueggen of Cashton; nine grandchildren, Mary Jo (Steven) Friedmann, Jason (Denise) Marx, Shawn Marx, Timothy Marx, Jessica Inman, Rhiannon Davis, Sarah Vanderhoef, Megan Brueggen, and Stephanie Brueggen; 15 great-grandchildren; three great-great-grandchildren; her brothers-in-law, Kenny Budde of Ontario and Joseph (Ardella) Leis of Cashton; her sisters-in-law, Doris Lord of La Crosse and Elaine Leis of Sparta; and many nephews and nieces.
Harriet was preceded in death by her parents, Walter and Anna; her husband, Floyd, in 2008; her father- and mother-in-law, Henry and Kathryn (Seitz) Leis; her sisters, Alice, Grace, Ruth, Beatrice, Bernice, Elaine, and Deloris; and her brothers, Almore, Dorwin "Sonny," and infant brother Clarence.
A Mass of Christian Burial will be at 10:30 a.m. Friday, Sept. 17, at Sacred Heart Catholic Church in Cashton. Father Michael Klos will officiate. Burial will follow in the Saints Peter and Paul, Pine Hollow Cemetery, rural Cashton. Family and friends are invited for visitation Thursday, Sept. 16, beginning with a wake service at 4 p.m. Visitation will continue until 7 p.m. at Sacred Heart Catholic Church. Visitation also will be held Friday from 9:30 a.m. until the time of service at the church.  
The Torkelson Funeral Home of Cashton is assisting the family with arrangements. Online condolences may be offered to the family at www.torkelsonfuneralhome.com.  
The family has asked that memorials be given to Cashton Fire and Rescue or the Sacred Heart PCCW in Harriet's name.