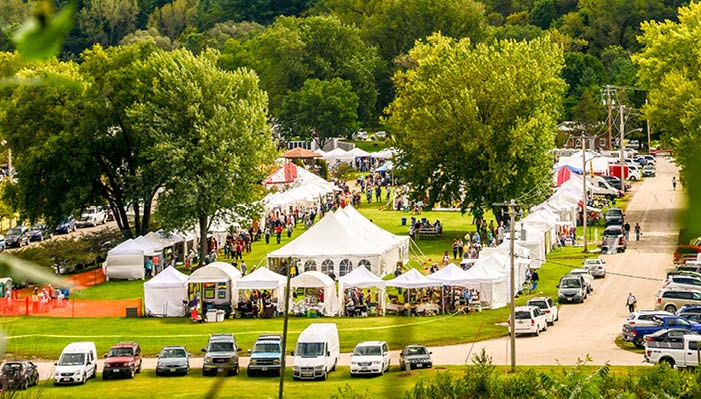 The region will be on display in its several forms during the Driftless Area Art Festival, which is set for Sept. 21–22 in Soldiers Grove.
Visitors will be able to choose from and enjoy the works of 80 visual artists, the performances of four musical artist groups, and the taste treats of 10 area culinary artists.
The visual artists are being featured individually and in groups on Facebook and are listed on the website driftlessareaartfestival.com. Their works include drawing, painting, photography, print making, jewelry, ceramics and sculpture, glass, metal, wood and fiber art.
Three local residents' art will on display at the festival: Cheryl Strazdins of Red Goat Studio in Wilton will show resin jewelry; Aldis Strazdins, also of Red Goat Studio in Wilton, tintype photography; and Ron Johnson of Sandhill Folk Company of rural La Farge (Rockton), silver and 14-karat gold jewelry.
Seventy of the artists also have donated items for the silent auction, which will be from 11 a.m. to 2 p.m. on Saturday and Sunday. New this year is the option for auction-goers to buy the pieces on the spot instead of waiting for each day's auction conclusion.
Performing artists on Saturday will be Catherine and Ted Parrish and Patchouli. Sunday's music will be offered by Kickapoo Joy Juice and the Medicine Brothers.
And a wide variety of culinary adventures await festival goers.
Capelle's Cuisine will offer a steak portabella melt, home cut fries, deep-fried artichokes, and pineapple boats. Julie's Catering will feature Italian beef, a French dip sandwich, chicken salad, and loaded nachos. Come to Crepes Jeanluc for buckwheat and wheat crepes and pastries.
Other taste treats include Five Star Egg Roll's sesame chicken and fried rice, orange chicken and fried rice, lo mein noodles, crab rangoon, and a variety of teas. Food for Thought will offer pork, beef and veggie tacos. The Dawg House will offer a catfish dinner, Chicago-style hot dogs, quarter-pound hamburgers, Italian sausage with onions and peppers, cheese curds, and a kids' meal.
Desserts and drinks will consist of Mary's Berries' smoothies, strawberry shortcake, and pumpkin bars. Apple'licious Pie Depot will bring its variety of pie slices, a la mode if one wishes. Kickapoo Coffee will bring its special brews, and the Soldiers Grove Lions Club will sell wine from Columbia Crest and several signature beer specialties from the Driftless Brewing Company.
Hours for the festival, which will be at Beauford T. Anderson Park in Soldiers Grove, are from 10 a.m. to 5 p.m. Saturday, Sept. 21, and 10 a.m. to 4 p.m. Sunday, Sept. 22. Admission is free, and there is free parking. Full details are available on the festival's Facebook page and at driftlessareaartfestival.com.
Major funding partners for the festival are Peoples State Bank, Village of Soldiers Grove and its Community Development Corporation, Crawford County, Go Macro, Community Development Alternatives Inc., and Wisconsin Public Radio.
Benefactors are J. Company Design Studio, La Crosse Tent and Awning, Organic Valley Family of Farms, Richland Grant Telephone Cooperative, Rooted Spoon Culinary, Scenic Rivers Energy Cooperative, Sleepy Hollow Auto, Star Valley Flowers, plus many other sponsors at the patron and supporter levels.