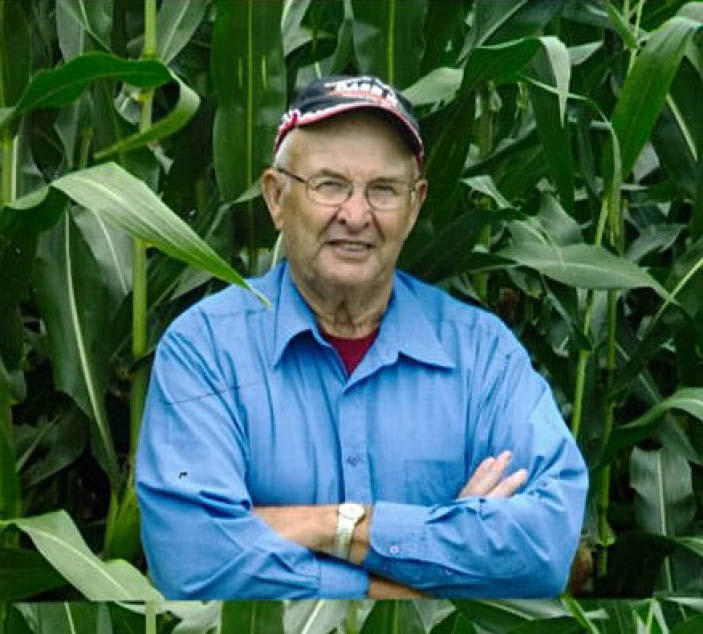 Evan D. Summerfield, 89, a devoted husband of 67 years, wonderful father, fun-loving grandfather and very proud great-grandfather, was called to a heavenly farm for eternal life on Aug. 12, 2019, surrounded by family at the Morrow Home in Sparta, Wis.  
Evan was born July 31, 1930, to Earl and Blondena (Pasch). Evan attended Slabtown Country School and graduated from Wilton High School in 1948. He recently celebrated his 89th birthday at the Morrow Home with family, relatives, cake and gifts. 
Evan married Helen Geier on June 11, 1952, and they proudly celebrated 67 years of marriage on June 11, 2019. They resided in Wilton on a third-generation farm, where they raised their eight children.
Evan was a proud recipient of the Century Farms Award in 2000. He loved farming and enjoyed working alongside his dad, Earl, and his son, Jim. He took great pride in the fact that Jim continued to work on the family farm, following in his footsteps. He looked forward to Jim's regular visits at the Morrow Home and took great interest in updates from Jim on the beef and crops even in his final days. 
His eight children learned the importance of a strong work ethic by helping on the family farm with their father. 
His grandchildren and great-grandchildren lovingly called him Grandpa Moo and Grandpa Farmer and looked forward to visiting the farm. They enjoyed tractor and four-wheeler rides, going to the barn to see the cows and kittens, and hearing his farm stories, but didn't always like the smell in the barn.
Most of all, he loved his family and the time they spent together. Whether it was a Sunday ride in the country followed by a treat at Welch's gas station, a quick softball game on the lawn before milking, or Wilton Wood Turtle picnics on the farm, these and other memories the family will always cherish.  
Evan was a member of the Hillsboro Wilton Co-op and served on the board for the Town of Wellington for many years. He was a member of St. John the Baptist Church in Wilton. 
Evan is survived by his loving wife, Helen, and their eight children, Sandra Summerfield of Oconomowoc, Wis., David (Laurie) Summerfield of Arvada, Colo., Marjorie Klinzing of Monroe, Wis., James (Connie) Summerfield of Wilton, Nancy (Steve) Laabs of Waukesha, Wis., Donna Rueckheim of Sparta, Kevin Summerfield of Jefferson, Wis., and Brian (Melissa) Summerfield of McMinnville, Ore. 
He is also survived by his sister, Julaine (Jerry) Ristow of Waukesha, Wis.; his 12 grandchildren, Katie, Beth, Jenna (Josh), Kyle (Taylor), Brody, Brandon, Brianna, Nathan (Ellyn), Miranda, Devan, Lukas, and Lily; his three great-grandchildren, Kayden, Karley, and Adaly; and his extended family and friends, especially Gary (Cathy) Von Ruden family and Lori Burnham.
He was preceded in death by his parents; his niece, Susan Ristow Zewiske; his son-in-law, Paul Klinzing; his cousins; and his Geier brothers-in-law, sisters-in-law, nephews and niece. 
The family would like to give a special thank-you to the Morrow Home in Sparta and Tomah Hospice Touch for the love and compassion they have shown Evan and their support for the family. 
A Memorial Mass of Christian Burial will be at 11 a.m. Saturday, Aug. 17, at St. John the Baptist Church Catholic Church, 504 Enderby St., Wilton, with Father John Ofori-Domah. Visitation for Evan will be Saturday at the church from 9 a.m. until the time of the service. Inurnment will be at St. John's Wilton Cemetery. 
In lieu of flowers, memorials can be given to St. John's Baptist Church in Wilton and/or Morrow Home in Sparta in Evan's name. 
The Smith-Nelson Funeral Home in Wilton is assisting the family with arrangements. Online condolences may be offered at www.sonnenburgfamilyfh.com.