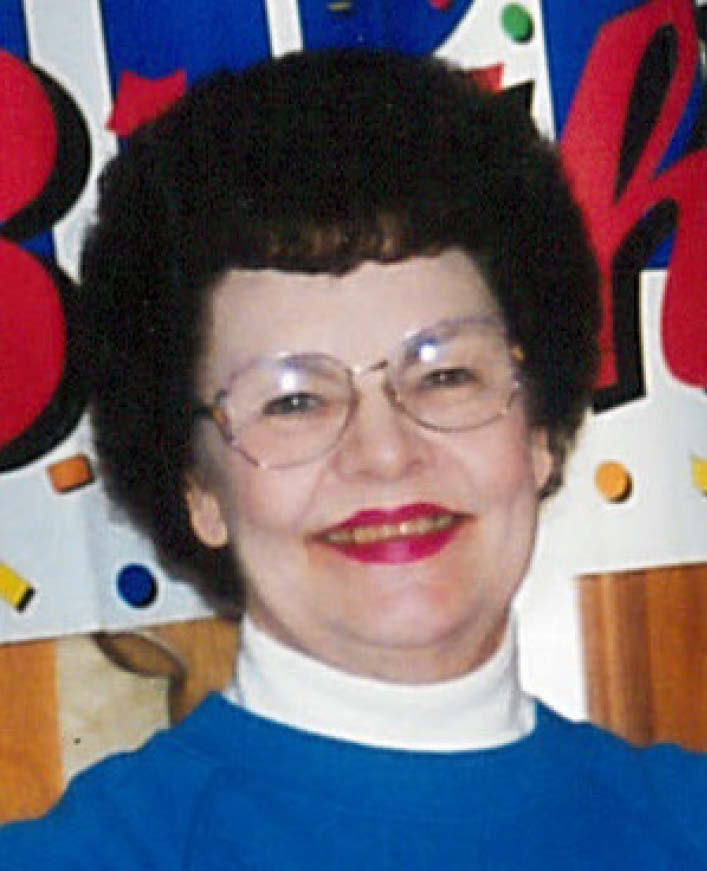 Eldora Bernadine Hutchens, 90, of Ontario, a very fun-loving person who enjoyed life to its fullest, passed away Friday, Dec. 1, 2017, at the Norseland Nursing Home in Westby, where she had been a resident since May.
The daughter of Emma Lombard and Floyd Curry, she was born near Dell on Dec. 15, 1926. She grew up and attended school in Ontario after moving there at age 2 with her mother Emma and stepfather, Howard Sullivan.
She married Harry Downing on Aug. 28, 1943. They had six children and shared 38 wonderful years together prior to his death Nov. 21, 1981. She married Harold "Hod" Hutchens on Oct. 15, 1983, and they enjoyed 22 years together prior to his death on May 15, 2005. Later she had seven great years of companionship with her first high school sweetheart, Marty West.
She grew up loving to dance and travel. She and Harry enjoyed many trips and a vacation in Hawaii. She and Hod did a lot of dancing and traveling after their retirements in 1989, taking several trips with the Esters reunion people, and enjoyed their winters away. She and Marty did a little traveling and enjoyed shopping and visiting the casinos.
Bernadine was a very hard-working, energetic person. She retired from Decomat in Sparta in 1989. Prior to that, she worked at Tillman's in Wilton and for many businesses in Ontario. She was always willing to lend a helping hand and always with a smile! She enjoyed shopping, sewing, crocheting, making crafts and watching Packer games.
She also took great pride in her home and lawn, decorating for every holiday, and enjoyed spending time outside pulling weeds, caring for her flowers, lawn and keeping her home neat. She was well known for being an excellent cook and liked to entertain. Her family and friends will always remember the good times they shared together, her collection of treasures/wind chimes, and how beautiful she always looked. She will be sadly missed by all of those who knew her.
She is survived by her son, Jerry (Rita) Downing of Janesville; four daughters, Sandra (Dan) Collins of Janesville, Rosella Pohl and Janet Tainter, both of Ontario, and Colleen (David) Springman of Tomah; a daughter-in-law, Janeen (Ken) Jameson of Cambridge; 16 grandchildren; 43 great-grandchildren; seven great-great-grandchildren; two stepdaughters, Debbie Hillbear and Pam Kelley; three sisters-in-law, Elaine Sullivan of Quinnesec, Mich., Ardys (Edwin) Bredlow of Ontario and Delores Downing of Janesville; and many nieces, nephews, other relatives and friends.
She was preceded in death by her parents; her two husbands; a son, Robert Downing; a granddaughter, Danielle Collins; a grandson, Bill Springman; a grandson-in-law, Greg Wellnitz; a brother, John Sullivan; a sister, Sharon Sharp; her brothers-in-law, Roger Sharp and Charles, Harold and Donald Downing; her sister-in-law, Margaret Downing; and her companion, Marty West.
Funeral services will be at 12 p.m. Saturday, Dec. 16, at Grace Community Church in Ontario. Pastor Bruce Milleman will officiate. Burial will follow in Hilltop Rest Cemetery in Ontario. Family and friends are invited for visitation from 10 a.m. until the time of service at the church.
The Torkelson Funeral Home of Ontario is assisting the family with arrangements. Online condolences may be offered at www.torkelsonfuneralhome.com.
Bernie's family would like to extend their sincerest thanks to the staff at Norseland Nursing Home and Hospice for their wonderful care.