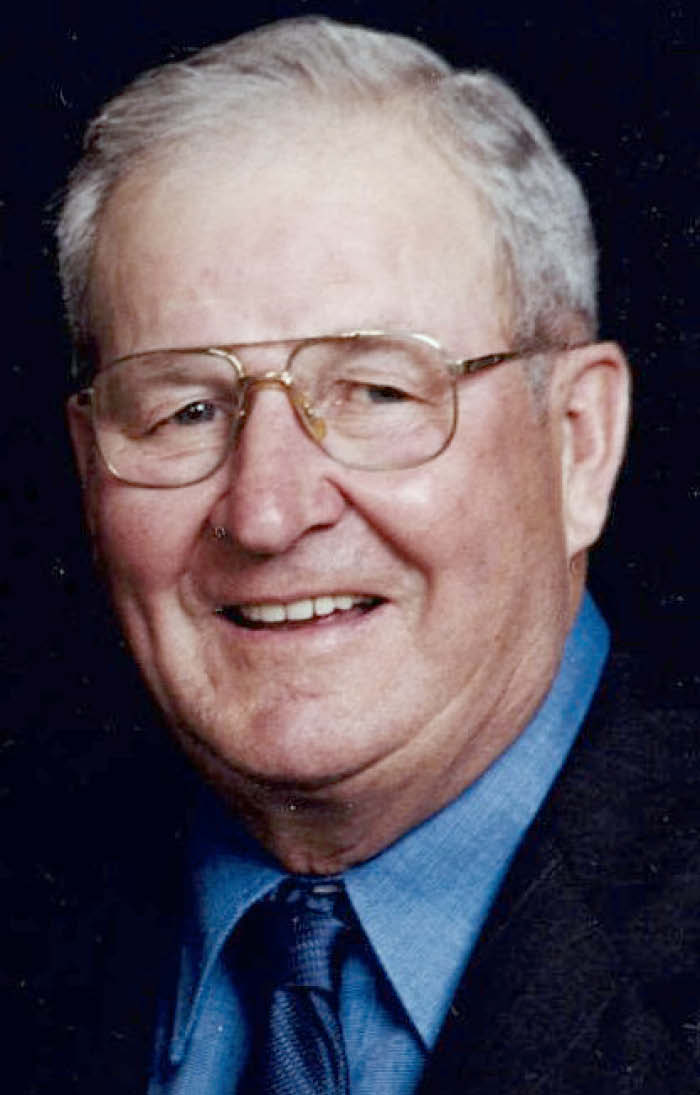 Donald E. Braund, 94, of Kendall died Thursday, Sept. 6, 2018, at the Elroy Health Center.
He was born June 3, 1924, on the family farm in the town of Clifton to Eugene and Olena (Helle) Braund. Donald was baptized and confirmed at Fountain Lutheran Church. He graduated from Homewood Country School and attended Kendall High School. On April 15, 1950, he married Caroline Ruth Siekert at St. Matthew's Lutheran Church on South Ridge and enjoyed 68-plus years of marriage. They were faithful members of St. Matthew's Lutheran Church and later, St. John's Evangelical Lutheran Church in Kendall.
Donald entered the U.S. Army in 1943 during World War II. He received his training at Camp Hale, Colo., and Camp McCoy, Wis. Below is a recap of his service as written by Donald:
"Entered the Army in WWII at 18. He served in the 76th Infantry Division in England, France, Luxemburg, Belgium, Germany. Was in the Ardennes, Battle of Bulge, Rhineland, Central Europe Campaigns. Reached Chemnitz, Germany, in April 45 for the historic link up with the Russians. War was over in Europe. He transferred to the 30th Infantry Division in England, getting set up for fourth Pacific invasion of Japan when the two big bombs were dropped. War was over; we were on our way home. Awarded three Battle Stars and other decorations and unit citations, Combat Medical Badge, and the France Citation Fof Stire Feedon. 'I thought I would never get home.'"
After his service to his country, he operated a milk route, picking up milk cans from area farmers and hauling them to the Kendall and Clifton creameries. In 1948, Donald bought a 45-acre farm located on the northwest edge of Kendall. He operated a dairy farm and drove and managed the school bus operations for the Kendall School District for 26 years.
Donald always loved horses since a little boy and raised Belgian horses. He enjoyed pulling the wagon he built in parades, giving rides at community events, and for friends and family. Don built and restored a cutter to be pulled by the horse to haul Santa. Donald and Caroline loved working the family farm with cattle, horses, chickens, and a big garden. They loved to travel to Branson and made it a yearly trip; he enjoyed music and was an accomplished harmonica player.
Donald remained a committed patriot and was a member of the Kendall American Legion Post 309 for 72 years and served as a past post commander. Don is the last World War II veteran in Kendall. Don was on the first Freedom Honor Flight out of La Crosse to visit the World War II Memorial.
He also served on the Kendall Village Board. He loved to work and helped plan the annual Labor Day celebration in Kendall. Don and Caroline were awarded the Citizen of the Year award in 2013. Donald was an avid baseball fan of the Brewers, and he played on the local Kendall baseball/softball teams and attended many sporting events. Don rebuilt a 1923 Ford Model T and drove it in the local parades as well as sharing rides with family, relatives, and friends. Donald leaves his children, grandchildren, and great-grandchildren with many memories and times spent on the farm. He loved people and animals and would help anyone in need.
Donald is survived by his children, Daniel (Cathy) Braund of Holmen and Nancy (David) Raiten of Kendall; his daughter-in-law, Ida Braund of Elroy; seven grandchildren and 14 great-grandchildren, Matthew (Rachel) Braund of Stoughton, Wis., Marci (Mike) Kline and their children, Evan, Ellie, and Macy of Holmen, Aaron (Becki) Braund and their children, Annika, Jozie, Brooke and Chesney of Prairie du Sac, Wis., Stacey (Dustin) Busby and their children, Olivia, Heston, and Camden of Alcoa, Tenn., Cory (Megan) Braund and their child, Colter of Kendall, James (Crystal) Raiten and their children, Dalton and Hannah of Tomah, Joseph (Meghan) and their child, Jocelynn of Onalaska; and many other loving relatives and friends.
Donald was preceded in death by his parents, Eugene and Olena; his wife, Caroline, on July 17, 2018 (never meant to be separated for long); his brothers, Melvin (Eleanor) Braund, Louis Braund, Edwin (Carrie) Braund, and Theodore (Irene) Braund; his sisters, Serena (Nicholas) Christakos, Aletta (William) Friske, and Lillian (Oliver) Grover; his son, Robert E. Braund; and his great-granddaughter, Adaline Rose Raiten.
Funeral services will be at 11 a.m. Monday, Sept. 10, at St. John's Evangelical Lutheran Church, 297 E. South Railroad Street, Kendall. Pastors Conrad Prell and Larry Neitzel will officiate. He will be laid to rest beside his wife and close to his farm at Glendale Cemetery in Kendall.
Relatives and friends are invited to call at the church from 4–7 p.m. Sunday and from 10 a.m. until the time of service Monday. The Smith-Nelson Funeral Home in Kendall has been entrusted with arrangements. Online condolences may be left at www.sonnenburgfamilyfh.com.
"The Lord will rescue me from every evil attack and will bring me safely to His heavenly kingdom" — 2 Timothy 4:18