December 8th, 2016
by
Laurie Erickson
Cookies and holiday treats will be on sale at the OntarioPublic Library from 10 a.m. to 4 p.m. Friday, Dec. 9.
---
December 6th, 2016
by
Jeanne Rice
By Jeanne Rice | Norwalk Public Library director
Seven first-graders from the Norwalk-Ontario-Wilton School District's Community Learning Center afterschool program will visit Norwalk Public Library from 4–5:30 p.m. Monday, Dec. 19.
---
December 5th, 2016
by
County Line
A free community supper will be served from 4:30 to 6 p.m. Wednesday, Dec. 14, in the United Methodist Church Fellowship Hall, 125 Royall Ave., Elroy.
---
December 1st, 2016
by
County Line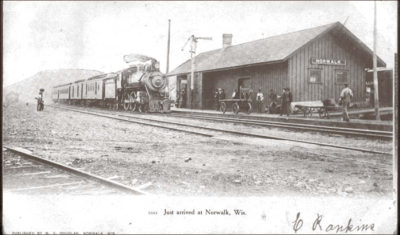 The Chicago & Northwestern ceased all operations on the line between Elroy and Sparta in July 1964.
---
November 30th, 2016
by
Alice Brandau
It's a first! Some Christmas decorations are in place, and it's only November.
---
November 30th, 2016
by
Myrna Fauska
Thanksgiving 2016 is history, and on the calendar according to Myrna, winter begins the day after, also known as Black Friday.
---