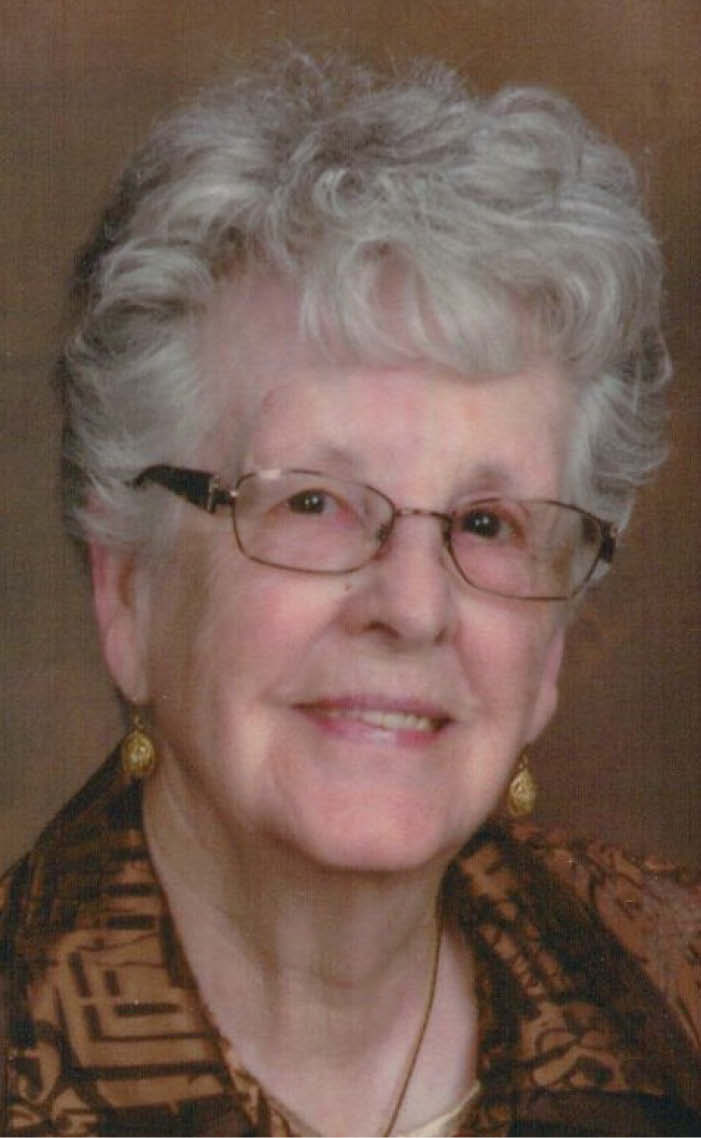 Agnes McGarvey, 94, passed away peacefully at Hillview Health Care Center on Saturday, Dec. 30, 2017.
She was born Nov. 2, 1923, in Mellen, Wis., to Thomas and Mary (Dolan) Leith. In 1940, she moved to Wilton with her parents and some of her siblings. She graduated from Wilton High School in 1943.
On Nov. 19, 1944, she married Joseph McGarvey while he was stationed at the Naval Base in Norfolk, Va., prior to being shipped out. They moved to the McGarvey family farm in Wilton in 1948 and farmed for 23 years. The McGarvey farm had been a 100-year-old farm. Agnes worked at the Department of Veterans Affairs – Tomah as a dietician for several years before retiring in 1974. She was a member of the Wilton Legion Auxiliary for 50 years and enjoyed sewing, reading, and crafts, but her most favorite pastime was shopping. She often said that if you needed her, she'd be at the mall! In 1990, Joe and Agnes moved to La Crescent, Minn., and then to La Crosse in 1998 to be closer to their children and grandchildren.
She is survived by her children, daughter Judy (Mert) Fischer of Marshfield, Wis., and their children Jeff Fischer and special friend Chelsea Orvick, Brad (Teresa) Fischer, and Randy (Sheila) Fischer; son Dan (Jill) McGarvey of Holmen, Wis., and their children, Jaime McGarvey and Joe (Maiko) McGarvey; daughter Mary Patricia McGarvey of Onalaska and her children, Sara McGarvey, Marci Verwiebe and Jason (Sarah) Verwiebe; and daughter Karen (Tom) Haville of Onalaska and their children, Bryan (Melissa) Haville and Nate Haville and special friend Kortney Beale; and her great-grandchildren, Paige, Emma, and Jerra Joe Fischer, Paige and Ashley Gorst, Tyler, Eddie and Beckett McGarvey, Lucy Verwiebe and Maizie, Bryna, Tyson and Quentin Haville.
She is also survived by a sister-in-law, Irene Leith of La Crosse; a sister-in-law, Mary Follansbee of Beaver Dam, Wis., and a brother-in-law, Robert (Mary) McGarvey of Rice Lake, Wis.; and nieces, nephews, and other cousins and family members.
She was preceded in death by her husband, Joe; her parents; her brothers, Eldridge, James, Thomas, and Donald Leith; her sisters, Mary Shalton, Myrtle Persich, Evelyn Stocke and Adlett Leith (infancy); and a great-grandson, Liam Verwiebe (infancy)
A Mass of Christian Burial will be at 11 a.m. Saturday, Jan. 13, at St. John the Baptist Catholic Church, 504 Enderby, Wilton. Father John Peter will officiate. Burial will be in the church cemetery.
Relatives and friends are invited to call on Saturday from 10 a.m. until the time of the service. The Smith-Nelson Funeral Home in Wilton is assisting the family with the arrangements. Online condolences may be sent to www.sonnenburgfamily.com.
The family requests that memorials be given to the Hanson-Stark-Leith-Paeth Wilton American Legion Post 508.