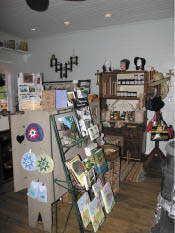 By KAREN PARKER | County Line Editor
It doesn't take too much imagination to picture what the Ottervale Store might have looked like in the 1890s.
The shelves were no doubt lined with the basic staples a Kickapoo Valley housewife might have needed: flour, sugar, salt, basic spices, liniments and creams for the home medicine cabinets and likely a pickle barrel and a cracker barrel. Whatever it contained, it no doubt beat taking the much longer trip into La Farge to purchase the essentials.
Thanks to the efforts of Kevin and Patsy Alderson, the old Ottervale Store now has new life, and, yes, it is still a store, although the inventory is much different.
Alderson, a retired Cashton High School history teacher, and Patsy, his wife, an artist, have spent many grueling hours over the past six months, restoring the building to its former, well, plainness. A basic 18-by-26-foot building, the store has no eye-popping architectural features. It was serviceable and suited the needs of the tough pioneers of Ottervale, a hamlet situated a few miles east of La Farge, off Highway 82.
Despite its lack of charm, the Aldersons were drawn to the old building, located about a mile away from where they live on Husker Hollow Road. While in Cashton, they had a shop called Cashton Mercantile, and they both missed the retail business.
It was only after they bought the building from Micah Hegge that they discovered an unusual twist. The store had been owned and operated by Kevin's great-great-aunt and great-great-uncle, August and Christina Gudgeon. Christina had been the mother of three daughters when her husband disappeared under foggy circumstances. Her family set her up in the store so that she would have the income to raise her daughters. She later married Gudgeon, and the two ran the store together and had three sons.
The Aldersons aren't sure how long the building was a store, but they do know it eventually evolved into a home and then a farm storage building. That's where the work started: Removing decades of cobwebs, grain and items too rank to mention and scrubbing kerosene stains from the floor. It took a new roof and 26 gallons of paint, all applied by hand, before the old building moved from ugly to quaint. Patsy restored a rusty old wood stove to its shining splendor, and Kevin collected historical items from Ottervale to create a mini-museum in the back of the store.
A devoted local historian, Kevin has stocked the store with book titles from local writers, including his and Patsy's book on round barns of Vernon County. Later this year, he will also have a title from the University of Wisconsin Press on the 165 Civil War letters he found at an auction in Cashton.
"We missed the store (in Cashton) and we missed the people," Alderson noted. "This has given us a chance to meet our neighbors."
Although the store has only been open since mid-June, there is plenty of inventory to keep the shopper interested.
"We wanted to feature locally produced items as much as possible," Patsy said.
The store is an eclectic mix of Patsy's own art work, side-by-side with locally produced maple syrup, Kickapoo Coffee and a line of non-perishable food items, including jams, jellies, pickled beans, Amish candy and other mouth-watering treats, Locally produced crafts such as rugs, handcrafted wooden bowls and pottery, both Amish and non-Amish, are also available. And on a hot day, you can open the cooler and enjoy a bottle of Spring Valley soda.
You can find the Ottervale Store west of La Farge, off Highway 82, on Husker Hollow Road. The store is open Wednesday through Saturday from 9:30 a.m. to 5 p.m. or by chance on other days.