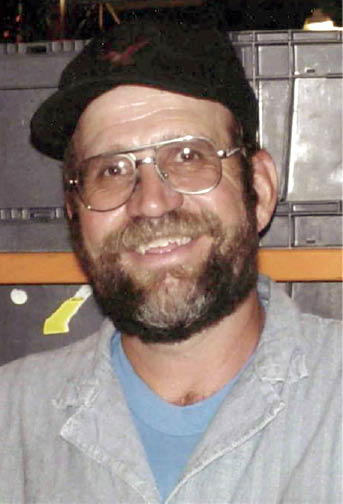 Calvin R. "Preacher" Niemeier, 57, of Janesville died from complications of amyotrophic lateral sclerosis (ALS or Lou Gehrig's disease) on Tuesday, April 17, 2012, at his home, surrounded by his family.
The son of the late Carl H. and Amanda C. (Beier) Niemeier, Calvin was born March 13, 1955, in La Crosse. He was a 1973 graduate of Brookwood High School in Ontario, where he excelled in track and cross country. After graduating from high school, Calvin moved to the Janesville area, where he worked at GMAD, retiring in 2004 after more than 30 years of service. On July 2, 1997, in Las Vegas, Calvin married Laura L. Evans, whom he had met at a South Central Chapter meeting of Harley owners.
Calvin and his wife enjoyed traveling coast to coast and throughout the United States on his red Harley, which pulled a small camping trailer. They attended numerous bike rallies, including the rallies in Sturgis, S.D. For the past 17 years, Calvin has been the lead bike in the local MDA TUB Runs, sporting the American flag on his bike. He also served as treasurer for the South Central HOG Chapter for many years. Calvin also enjoyed going back to his hometown of Norwalk for its festivals and tractor pulls.
Calvin was a very friendly, adventurous and happy-go-lucky person whose motto was, "I have never met a stranger!" He was always willing to lend a helping hand to those in need, whether he knew them or not. When his health started to decline in 2010, Calvin was still a very optimistic and positive person who always seemed to find the good things in everything. The glass is half full, not half empty.
He is survived by his wife, Laura, and his siblings, Lester "Festus" Niemeier of Whitehall, Wis., Ruby Willet of Elgin, Ill., Betty (Emery) Leis of Tomah, James "Skinner" (Janice) Niemeier of Janesville, Gordon (Kathy) Niemeier of Janesville, Glen (Peggy) Niemeier of Belvidere, Ill., and Donna (Ed) Wilde of Wilton.
He is further survived by his mother-in-law, Della Evans of Genoa, Ill.; his sisters- and brothers-in-law, Cindy (Tom) Chamberlin of South Beloit, Ill., Nancy (Roger) Campbell of Rockton, Ill., and Lyle Rueckheim of Ontario; and many nieces, nephews, other relatives, and his many Harley riding friends.
In addition to his parents, he was predeceased by his two sisters, who also died from ALS, Evelyn Stemwedel and Fern Rueckheim; and his brother, Dave Niemeier.
Funeral services will be at 2 p.m. Saturday, April 21, at St. Jacob's Evangelical Lutheran Church in Norwalk, with Rev. Matthew Minzlaff officiating. Burial will follow at Pilgrim's Home Cemetery. Visitation will be from 4-8 p.m. Friday at the Whitcomb-Lynch-Albrecht Funeral Home in Janesville, and from 11 a.m. until the time of the service Saturday at the church. Memorials would be greatly appreciated if they were made to the Muscular Dystrophy Association to fund ALS research.