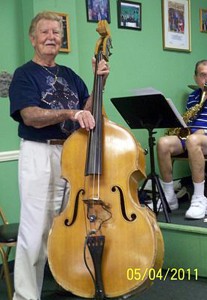 Delmont W. Oquist, 90, died March 7, 2012, in Sebastian, Fla.
He was born in Kenosha, Wis., and spent many summer and winter months in Ontario, at his farm on Cass Valley Road. His farm is now owned by his son Michael Paskiewicz, along with Mary, Michael's wife, and their children.
Del and Connie enjoyed going to services at Mount Pisgah Wesleyan Church in Ontario when they were at their cabin. They enjoyed their meals and conversations with the locals at the caf and ice cream at the Kickapoo Paddle Inn. Del enjoyed his Amish-built log cabins sitting high, overlooking Wildcat Mountain, and the breathtaking views of the trees as they put on their shows each fall.
He played the bass and would join Tor Eness, his cousin Ruby Berg and friends at the July 4 talent show at the Ontario Community Hall. In the parade every year, he proudly drove his 1945 Army jeep, which would be decorated with flags and filled with children giving out candy.
Del owned more than l,000 acres in the Kickapoo Valley area at one time, and to him, this was heaven.
He is survived by his wife of 25 years, Connie of Sebastian, Fla.; four sons; four daughters; 24 grandchildren; 21 great-grandchildren; and three great-great-grandchildren. He was preceded in death by his first wife, Ellen; his sister, Loretta; and his cousin, Arden Berg of Ontario.