15 hours ago
by
Karen Parker
Any hope the Ontario Village Board had of the DNR accepting 1970s floodplain maps likely was washed away Tuesday, when Michelle Staff, DNR water-regulation zoning specialist, told the County Line that the old maps were not, as the village had alleged, old Army Corps maps.
---
February 7th, 2019
by
County Line
A public information session concerning the April Monroe County advisory referendum on increasing taxes to cover debt payments on a new Monroe County nursing home will be at Brookwood High School
---
January 31st, 2019
by
County Line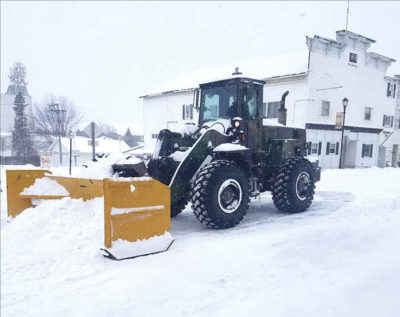 Taking on an extra duty, Wilton Police Chief Jeremy Likely plows Walker Street in Wilton after Monday's snowstorm.
---
January 31st, 2019
by
Sue Blanchard
We have heard about the 100-year flood and the 500-year flood. But what will this last one be known as? Part of that is up to us.
---
January 26th, 2019
by
Karen Parker
Ontario buyouts not a sure thing County Line Publisher Emeritus The good news is that every Ontario property affected by the August 2018 flooding will be eligible for a FEMA
---
January 23rd, 2019
by
County Line

A few months ago, a contingent of outraged citizens hammered on the Norwalk Village Board for what they perceived as the board's failure to protect them from backup from an inadequate sewer plant.
---
January 22nd, 2019
by
County Line
The following are the results of last week's caucus for Norwalk Village Board.
---