March 4th, 2015
by
admin
"We would still be here, but we would change a lot," said Mari Freiberg, executive director of Scenic Bluffs Community Health Centers, which has clinics in Cashton, Norwalk, Viroqua and Sparta.
---
March 4th, 2015
by
admin
For the first time ever, the Vernon County Dairy Breakfast will be held at an Ontario area farm.
---
February 25th, 2015
by
admin
Royall is in the midst of a large-scale, $2.4 million energy-exemption project, and the board of education discussed bonding associated with the undertaking at its meeting Monday.
---
February 18th, 2015
by
admin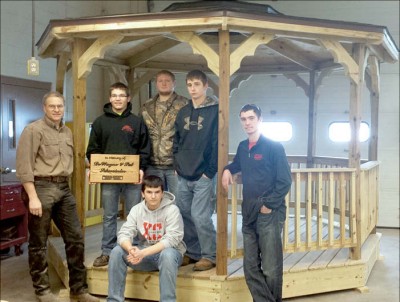 Brookwood High School students in Harvey Menn's industrial technology class recently built a gazebo in memory of DeWayne and Pat Schweinler, parents of high school secretary Debbie Anderson.
---
February 18th, 2015
by
admin
The Norwalk-Ontario-Wilton Board of Education hired a replacement Monday for longtime bookkeeper Pat Williams, extending a contract to Mary Prielipp.
---
February 18th, 2015
by
admin
In light of Gov. Scott Walker's proposal to transfer Kickapoo Valley Reserve management from the Department of Tourism to the Department of Natural Resources, state Rep. Lee Nerison and state Sen. Jennifer Shilling will meet with the KVR management board at 5 p.m. Thursday, Feb. 19.
---