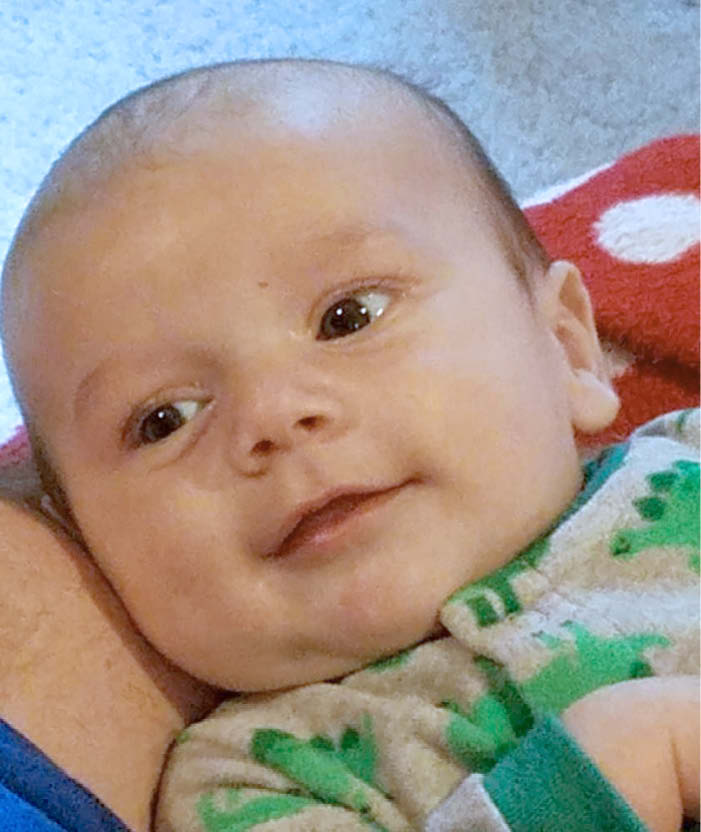 Our precious little angel, Zachary John Zinke, born July 8, 2018, beloved infant son of Carmen and Matthew Zinke of Kendall, Wis., went to be with our Lord on Sunday, Sept. 30, 2018. Zachary cooed and smiled throughout his three months, bringing joy and happiness to everyone he touched. He was baptized Sept. 9, 2018. 
In addition to his parents, he is survived by his big brother, Ty; his big sister, Skyler; his maternal grandparents, Jean (Jay) Thompson and Dave (Pamela) Utterback; his paternal grandmother, Elaine (Brown) Zinke; his great-grandmothers, Jane (Hale) Utterback and Sharon Fiorella-Teves; and his special grandparents, Denny (Cheri) Thompson and Janice Thompson and Janet and Roger Johnson.
In addition, he is survived by his maternal aunts, Lauren (Ben) Oldenburg and their child, Sterling, and aunt Tristen Utterback; a maternal uncle, Andrew Pettengill; a paternal aunt, Mayme (Jake) Allen and their children, Ava, Scarlet, Oliver and Charlie; and numerous great-aunts, great-uncles and other friends and relatives who loved Zachary very much. 
He was preceded in death by his paternal grandfather, John Robert Zinke; an uncle, Zachary Justin Zinke; and his great-grandparents, Avis (Justin) Brown.  In addition, he was preceded in death by his maternal uncle, Jason Dennis Thompson, and his great-grandparents, Arthur and Charlene Teves and Don F. Utterback.
A funeral service will be at 11 a.m. Friday, Oct. 5, at St. John Evangelical Lutheran Church, 297 E. South Railroad St., Kendall. Pastor Larry Neitzel will officiate. Burial will be in the South Ridge Cemetery.
Relatives and friends are invited to call on Friday from 10 a.m. until the time of the service.  
The Smith-Nelson Funeral Home of Kendall is assisting with the arrangements. Online condolences may be sent to www.sonnenburgfamilyfh.com.
Memorials may be made to the family in Zachary's memory.