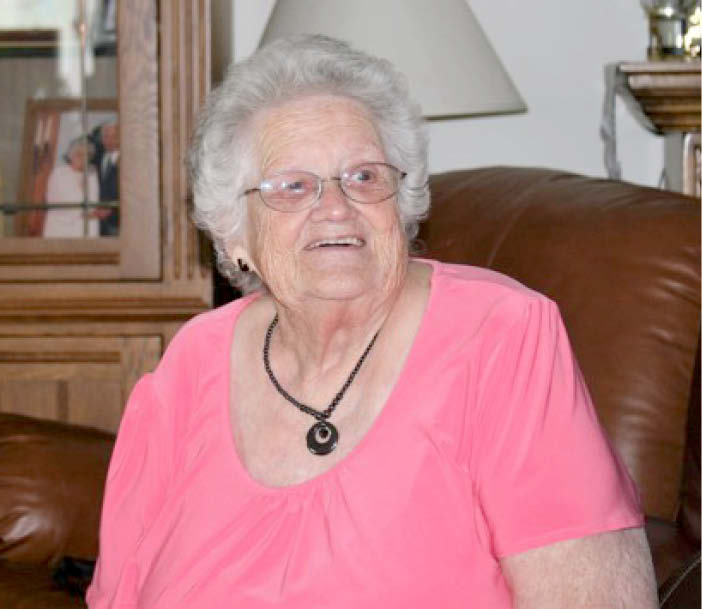 Thema Elaine Tompkins Weber, 93, of Kendall passed away Monday, July 3, 2017, at her home.
Thema E. Weber was the youngest child of Lester and Lois Tompkins. She was born at home on April 12, 1924, in Kendall. She attended Glendale School for her elementary years. She graduated from Kendall High School in 1941. She got her teaching training at Normal School and the University of Wisconsin-La Crosse. Thema taught in one-room schools before teaching primary grades in Sparta. The last 25 years of her 33 years of educating was teaching kindergarten in Wilton, which was part of the Elroy-Kendall-Wilton School System.
After retiring, Thema became involved with the local Retired Teachers Association. She served on several committees and as vice president for several years. She enjoyed being part of this proactive group.
Thema was active at her church. She taught Sunday school, worked with vacation Bible school, led ladies' Bible studies, was Sunday school supervisor, served as president of the Women's Fellowship, and worked at the fall Christmas Bazaar for many years. Her faith was very important to her, and she shared her love of Jesus.
Thema enjoyed sewing clothes, quilting, embroidery, working with plastic canvas, counted crossstitch, painting, and decorating cakes, especially wedding cakes. She and her husband Bill enjoyed traveling throughout the United States. They also traveled overseas to the British Isles and parts of Western Europe.
Thema married William Philip Weber on Aug. 4, 1951. They purchased a farm in the Wilton area, where they raised three children: Sue Ann, Roger Alan, and Dawn Marie.
Thema was preceeded in death by her parents, Lester and Lois Tompkins; and her siblings, Dean (Lillian) Tompkins, Jenny Glen (Paul) Zirk, Thomas Tompkins, Darrel (Ena) Tompkins, Leland Tompkins, Clayton Tompkins, and Mavis (Kenneth) Lintelmann. Her husband Bill, the love of her life, passed away Nov. 1, 2008.
Thema is survived by her children, Sue Weber of Wilton, Roger (Sandra) Weber of Holmen, and Dawn (Bernard) Lynch of Brooklyn; her grandchildren, Tracy (Nicholas) Adams, Cherie (Daniel) Davis, Elliot (Natalie) Weber, Nichole (Matthew) Klenc, Joseph (Mallory) Lynch, Kelsie (Devin) Averett, and Thomas Lynch; and her great-grandchildren, Ian Adams, Claire Adams, Cole Davis, Holland Davis, Weston Davis, Ezechial Weber, Margaret Weber, Max Klenc, Zach Klenc, Leo Klenc, William (Liam) Averett, and Ivan Averett. 
The family of Thema wants to thank all of the relatives and friends who sent cards and came to visit. A special thank you to Lisa Burckhardt, who cared for Thema long term. Our heartfelt thanks to the hospice staff of Tomah; you hold a special place in our hearts.
A funeral service will be at 10:30 a.m. Saturday, July 8, at Evangelical Free Church, 104 E. Hall St., Kendall. Rev. Robert Waschek will officiate. Burial will be in Oak Grove Cemetery, Tomah.
Relatives and friends are invited for a time of visitation from 5–8 p.m. Friday at the Smith-Nelson Funeral Home, 112 E. South Railroad St., Kendall, and from 9:30 a.m. until the time of the service Saturday at the church. Online condolences may be given at www.sonnenburgfamilyfh.com.