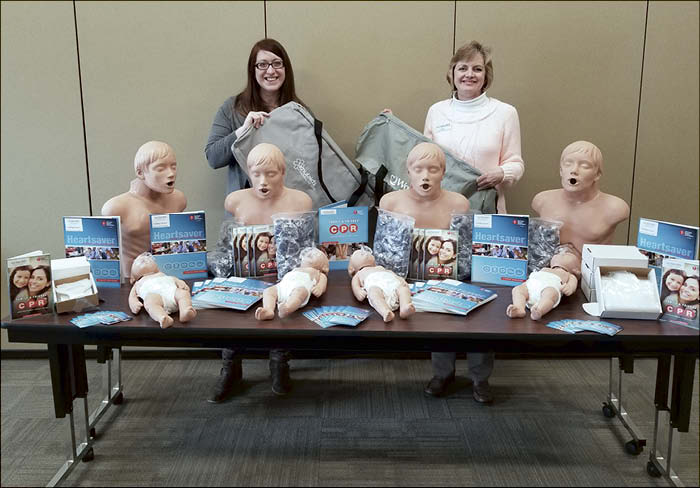 Theisen's Home, Farm and Auto in Sparta recently awarded a $1,600 grant to Scenic Bluffs Community Health Centers.
This award provided the funds to purchase new CPR training equipment used for community training classes at Scenic Bluffs. The grant funded CPR manikins (adult and infant), along with various supplies and textbooks. The addition of the new CPR equipment will not only allow Scenic Bluffs to replace worn-out equipment, but also allow for expansion of classes and the ability to teach classes simultaneously.
Theisen's More for Your Community Program makes direct grants to agencies to jumpstart and/or sustain projects that serve the basic needs of families and children, including food, shelter, education, safety and health. Applicants must be 501.c3 nonprofit, government-sponsored, or school-sponsored organizations and directly serve children and families within a 60-mile radius of a Theisen's store.
Theisen's Home, Farm Auto offers grants in all 20 Theisen's store communities. Last year, more than $252,000 in total grants were distributed to the region served by Theisen's, with each store having at least $5,000 available.
Scenic Bluffs has three staff members trained to teach American Heart Association First Aid, CPR and AED (automated external defibrillator) classes, and teaches about 50 classes per year to area businesses, families and individuals in surrounding communities. Classes are currently offered and scheduled upon request.
Scenic Bluffs Community Health Centers is a nonprofit, community-based primary healthcare provider serving La Crosse, Monroe, Vernon and Crawford counties, offering primary medical, dental, chiropractic, behavioral health, health education and pharmacy services for patients in the region. Scenic Bluffs has health centers in both Cashton and Norwalk, dental services in Viroqua and behavioral health services in Sparta.
For more information on community CPR classes or to schedule a class, call Scenic Bluffs at 654-5100. For more information, visit Scenic Bluffs online at www.scenicbluffs.org.