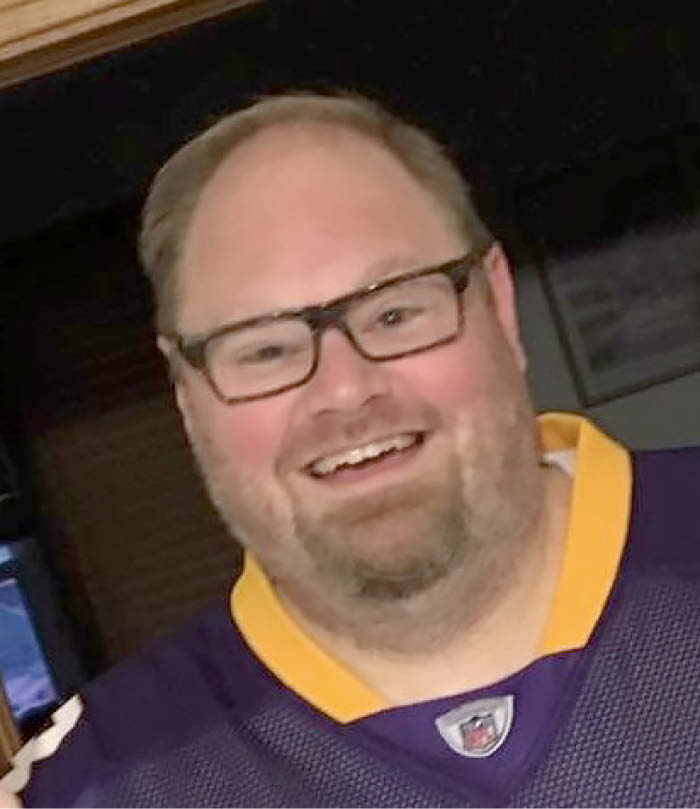 Steven Carl Schultz, 39, of Cashton died Wednesday, Aug. 30, 2017, at the Gundersen Lutheran Medical Center in La Crosse from a pulmonary embolism.
He was born Dec. 9, 1977, to Jean (Schultz) Estenson in Bloomington, Minn. Steve was united in marriage to Amanda (Suminski) Schultz on May 28, 2005, at Hoversten Chapel, Augsburg College, Minneapolis.
Steve graduated from John F. Kennedy High School in Bloomington in 1996. Steve was proud of his accomplishments and travels with the show choir, which gave him the opportunity to travel to Florida and Hawaii. During high school, Steve was baptized and spent a summer as a missionary with Bloomington Baptist Church, traveling throughout Europe. After high school, Steve worked in corporate security.
Shortly after Steve and Amanda were married, they moved to Adams, N.D., where Steve's dream came true to own and operate his own restaurant, the Grove Grill. Steve and Amanda lived in Adams until 2012, when they moved to Owatonna, Minn., where Steve had dream job No. 2 — working in hunting and firearms at Cabela's. In 2013, Steve and Amanda moved to Cashton, where Amanda serves as pastor of the Cashton Three-Point Parish — Bethany, Immanuel and Trinity. Steve served on the Scenic Bluffs Health Center Board, was a confirmation mentor and volunteered wherever needed. Currently, he worked at the Hansen's IGA grocery store. His smile and greetings will be missed by customers and friends.
Even though Steve loved living in Wisconsin, he took great pride in being a "Minnesotan." Steve enjoyed all things Minnesota — especially Vikings football and the Minnesota State Fair. He enjoyed grilling and bonfires in the backyard, hosting get-togethers with family and friends, good barbecue (not to be confused with sloppy joes), and going to movies. But most of all, Steve loved being a daddy. Carter was the light of his life, and he was so proud of him.
Steve was an incredibly supportive husband, a dedicated father, the best big brother, a beloved grandson, and an all-around "easy-going, likeable guy." He lived his life with joy and abounding in love. He had a beautiful heart and the best laugh. He will be missed by his family and friends, but his legacy lives on in our hearts forever.
Steve is survived by his wife, Amanda, and his son, Carter; his grandma, Margaret Bretz; his mother, Jean Estenson; his siblings, Tom (Aliesha), Katie and Melissa; his mother-in-law, Carmen Grove Suminski; his uncles, Doug Schultz and Warren (Sharyl) Schultz; his cousins, Sam, Calvin, Nicole and Kelly; along with great-aunts and great-uncles, other relatives and many friends.
Steve was preceded in death by his grandfathers, Carl Schultz and Karrol Bretz, and his stepfather, Bruce Estenson.
Funeral services will be at 11 a.m. Monday, Sept. 4, at Trinity Lutheran Church in Cashton. Bishop Jim Arends will officiate. Burial will take place at a later date in West Adams Cemetery in Adams, N.D. Family and friends are invited for visitation from 1–4 p.m. Sunday, Sept. 3, at the Torkelson Funeral Home in Cashton. Visitation also will be held Monday from 10 a.m. until the time of services at the church. Online condolences may be offered at www.torkelsonfuneralhome.com.