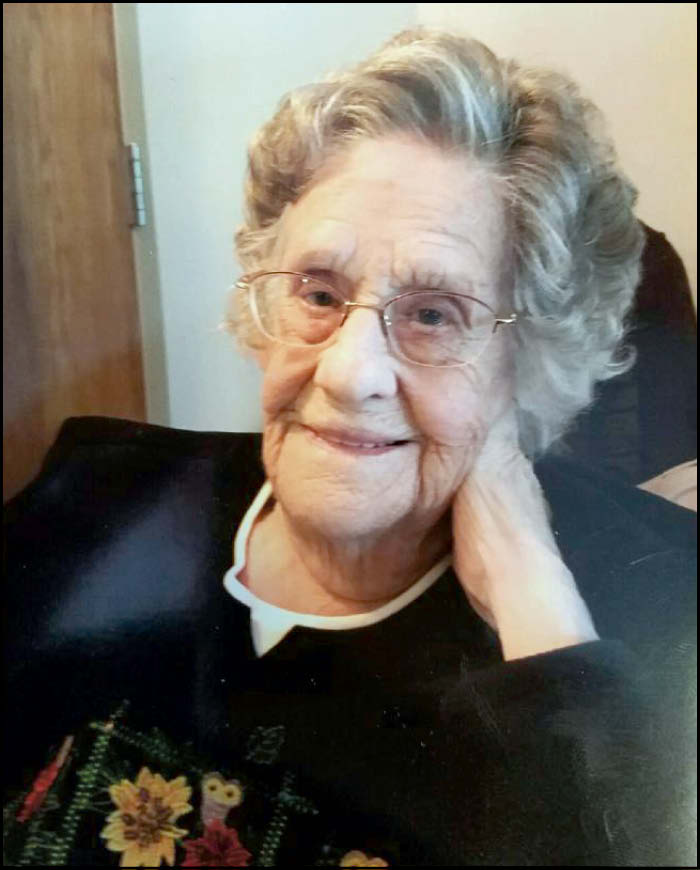 Phyllis E. McCoy, 95, of Holmen and formerly of rural Norwalk passed away peacefully Thursday, Jan. 26, 2017, at Gundersen Health System in La Crosse.
She was born Nov. 15, 1921, in rural Ontario to Roy and Hazel (Stout) Parrish. She attended Ontario Grade School and graduated from Ontario High School.
On Sept. 16, 1943, Phyllis married Donald M. McCoy. They operated the family dairy farm in rural Ontario, where they raised their five daughters. Phyllis was a devoted mother, 4-H club leader, and a longtime member and later president of the Ontario Homemakers Club. She worked at Tillman's Produce in Wilton, first on the assembly line and later, with schooling, became a USDA meat and poultry inspector.
Phyllis liked country music and enjoyed tour bus trips with friends to Branson, Mo., and Nashville, Tenn., as well as several other scenic trips.
Phyllis loved flowers and writing poems, and she was also a talented seamstress. She made quilts for all her daughters, grandchildren and great-grandchildren.
After moving to Bethany Heights in Holmen in 2011, Phyllis enjoyed playing euchre with her new friends. Also, she watched many Brewer games on TV as well as her RFD country music shows on Saturday evenings. 
Phyllis is survived by her daughters, Pat Nelson, Elaine (Glen) Gran, Earlene O'Keefe and Dawn McCoy; a son-in-law, Phil Nelson; her grandchildren, Eric Nelson, Joe (Rae) O'Keefe, Chris (Rani) Gran, Kevin (Aimee) Nelson, Ed (Colleen) O'Keefe, and Kara (Jason) Sommerfeldt; as well as seven great-grandchildren.
Phyllis was preceded in death by her husband, Donald; her daughter, Nancy Nelson; two sons-in-law, Bob Nelson and Bill O'Keefe; a grandson, Curt Gran; her parents; and her parents-in-law, William and Mae McCoy.
A special thank you to the staff at Bethany Heights and Benedictine Manor and to the nursing staff at Gundersen Health System.
Funeral services will be at 11 a.m. Friday, Feb. 3, at the Torkelson Funeral Home in Ontario. Pastor Michael Gjefle will officiate. Burial will follow in the Hilltop Rest Cemetery, Ontario. Family and friends are invited for visitation Friday from 10 a.m. until the time of service at the funeral home. In lieu of flowers, memorials are preferred. The Torkelson Funeral Home of Ontario is assisting the family with arrangements. Online condolences are available at www.torkelsonfh.com.