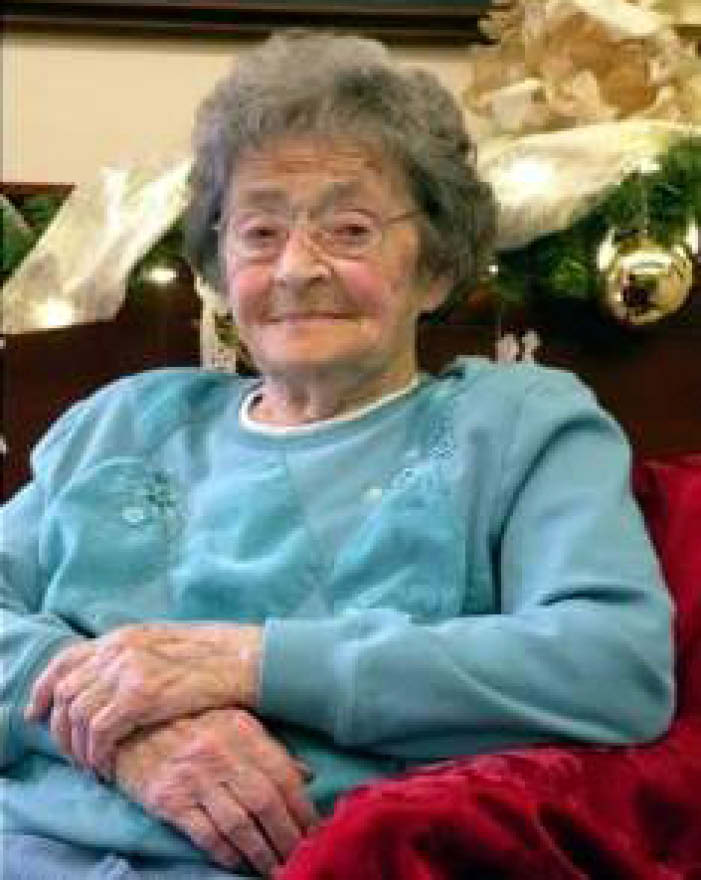 Patricia Neumann, 96, of Sparta and formerly of Norwalk died Saturday, Feb. 24, 2018, at the Morrow Memorial Home in Sparta.
She was born May 8, 1921, to Patrick and Anna Mae (McCabe) Sullivan and grew up in the Leon area. She married Norman Neumann on Sept. 12, 1945, and they operated a farm in Norwalk for many years prior to moving to Sparta in 2003.
Patricia had been a resident at the Morrow Home since 2012. She enjoyed reading, playing cards, and spending time with family.
Patricia is survived by her children: Patrick (Gerry) Neumann of Sparta, Mike (Jan) Neumann of Sparta, Jim (Karen) Neumann of Norwalk, Ruth (Stan) Zellmer of Madison, Charlie (Cathy) Neumann of Norwalk, Steve (Sue) Neumann of Sparta, and Norma (Dennis) Steinhoff of Sparta. She also is survived by her grandchildren; Shawn Neumann, Mark Neumann, Dan Neumann, Lisa Waas, John Neumann, Sara Neumann, Emy Neumann, Andrew Neumann, Michelle Larson, Jeff Zellmer, Angi Leisso, Amanda Taylor, Alex Neumann, Alan Neumann, Jenny Ziegler, Ashley Iverson, Kari Neumann, Kylie Steinhoff and Shane Steinhoff. She is further survived by 26 great-grandchildren.
Patricia was preceded in death by her parents; her husband, Norman; her son, Fred; her brothers, Norbert Sullivan and Gordon Sullivan; her sisters, Angela Thicke, Rita Baumbach and Leona Hanson; and a great-granddaughter, Chloe Ziegler.
A Mass of Christian Burial will be at 11 a.m. Thursday, March 1, at St. Patrick's Catholic Church, Sparta, with Father Keith Kitzhaber officiating. Burial will be in St. Augustine's Catholic Cemetery in Norwalk.
Visitation for Patricia will from 5–8 p.m. Wednesday at the Lanham-Schanhofer Funeral Home in Sparta, with a prayer service at 8 p.m. Visitation will continue on Thursday at St. Patrick's Catholic Church from 10 a.m. until the time of services. Online condolences may be offered to Patricia's family at www.schanhoferfh.com.
The Lanham-Schanhofer Funeral Home in Sparta is assisting the family with funeral arrangements.