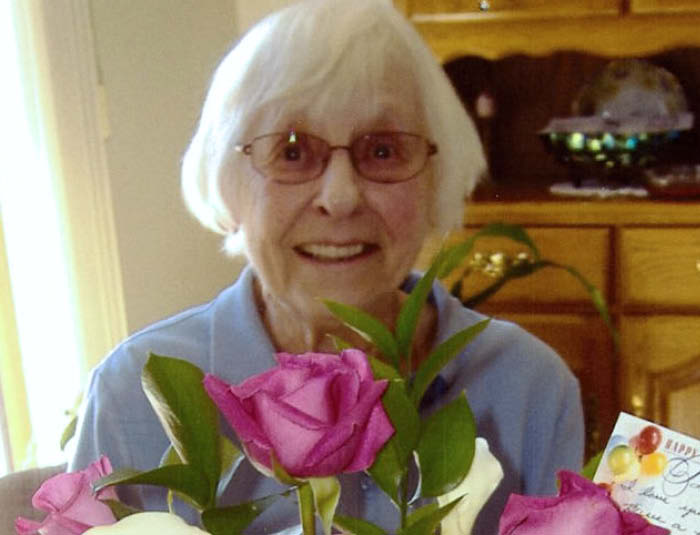 Mildred B. Radke, 96, of Wilton died Thursday, Dec. 27, 2018, at the Tomah Healthcare Center.
She was born April 17, 1922, to Arnold and Minnie (Zinke) Witt on the family farm in the town of Wellington. She was baptized and confirmed at St. Matthew's Evangelical Lutheran Church. She attended the Sunny Slope Country School and was a member of the Kendall High School class of 1940, graduating as the salutatorian. She continued her education at the New Lisbon Normal School, earning her teaching certificate. She taught grade school at Black Valley Country School from 1942 until 1945.
Mildred was united in marriage to Ivan J. Radke on Aug. 1, 1945, at St. Matthew's Evangelical Lutheran Church. He preceded her in death Nov. 3, 1996. Together they farmed in the town of Wellington until moving into Wilton in 1994. Mildred was a member of the Black Valley Homemakers Club and a faithful member of St. Paul's Lutheran Church in Wilton for more than 70 years, where she was a member of the Women's Circles.
She was an excellent cook and baker who was known for her delicious baked bread, pies and sweet rolls. Mildred was determined and was the first in her family to graduate high school. She also overcame polio shortly after her marriage. She will be remembered for saying, "If a job is worth doing, then you do it well." She was extremely organized, even having kept her teacher plans from her rural school days. Mildred was the consummate homemaker and was very involved in her children's lives. She was a devoted wife and a loving mother, grandmother, and sister.
She is survived by her four children, Carol (Randy) Martalock of Milton, Wis., Arlys (Virgil) Oelke of Sun Prairie, Wis., and Kurt (Kari) Radke and Keith (Julie) Radke, both of Wilton; seven grandchildren, Kristen and Kara Martalock, Claudine and Melissa Oelke, and Anna, Karl, and Samuel Radke; two great-grandchildren, Cody (fiancée Kirsten Sauer) Martalock and Cole Martalock-Kettle; and nieces, nephews, and other relatives and friends.
She was preceded in death by her brothers and sister-in-law, Gerhardt, Andrew, and Phillip and Sally Witt and Melvin Witt; two sisters and brothers-in-law, Gertrude and Frank DeChant and LaVerne and Alois Schendel; and on the Radke side, her sisters-in-law and brothers-in-law, Aila and Leonard Fick, Wilma and William Heilman, and Werner and Eileen Radke
A funeral service will be at 1 p.m. Saturday, Jan. 5, at St. Paul Lutheran Church, 401 Mill St., Wilton. Burial will be in the church cemetery.
Relatives and friends are invited to call at the church on Saturday from 11 a.m. until the time of the service. The Smith-Nelson Funeral Home in Wilton is assisting the family with the arrangements. Online condolences may be sent to www.sonnenburgfamilyfh.com. The family requests memorial be given to St. Paul Lutheran Church or the Wilton Ambulance Service, 400 East St., Wilton, in Mildred's name.