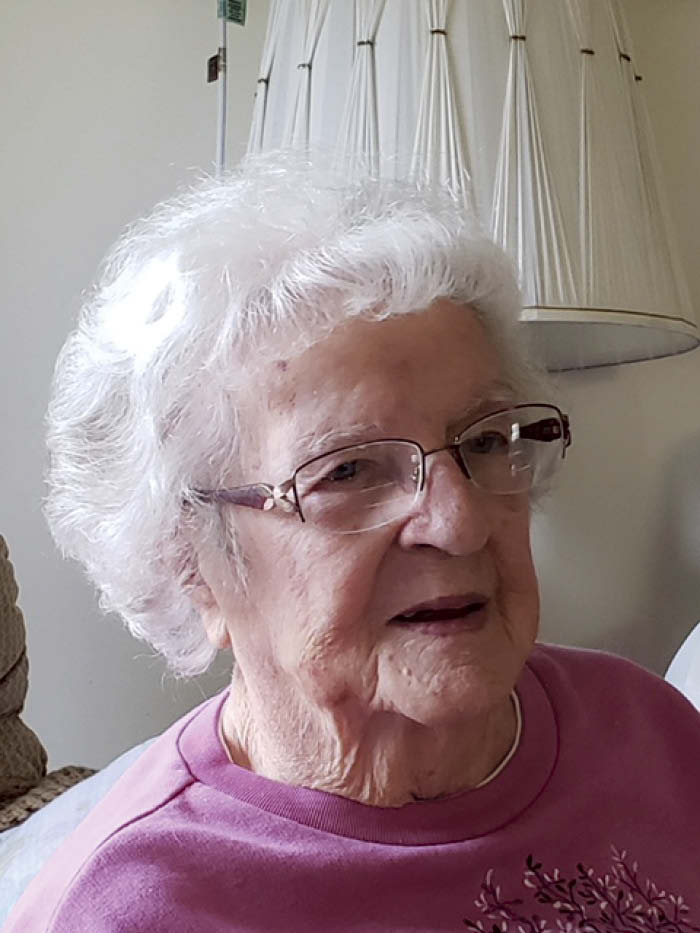 Mary Jane Giese, 90, of Ontario passed away peacefully Tuesday, Oct. 30, 2018, at the Morrow Memorial Home in Sparta.
Jane was born Oct. 18, 1928, to James and Marie (Langsdorf) Sullivan in Kendall. She married Everett John Giese on Sept. 11, 1948, at St. Mary's Ridge Catholic Church.
Jane and Everett lived on three different farms in rural Ontario, where they raised their family. Jane was an amazing cook and baker who could make feeding a crowd seem so easy. She was a mom to whoever walked in her kitchen and a friend to all. Jane had a quick wit and was known for her wonderful one-liners. But being a mom, grandma and great-grandma were her most prized titles.
Jane is survived by her children, Linda (James) Barry of Norwalk, Beverly (Dean) Downing of Norwalk, Karen (Jeff Kennedy) Leis of La Farge, Daniel (Diana) Giese of Norwalk, and Brooke (Michael Steele) Boldon of Shanghai, China; her grandchildren, Brian (Holly) Barry, Jeremiah "JJ" (Stephanie) Giese, Jason (Elizabeth) Giese, Libby (Kyle) Hauser, Travis (Anne) Downing, Dustin (Nicole) Downing, Kyle (Kaity) Leis, Kelly Luethe, Brock Giese, Ryan (Jamie) Muller, and Troy (Laura) Muller; 24 great-grandchildren; two sisters, Margaret Laufenberg and Marie (Harry) Brueggen; two sisters-in-law, Pat Sullivan and Kay Sullivan; a daughter-in-law, Shirley (Kevin) Brockman of Union Center; along with many nieces, nephews, other relatives and dear friends, including the very special caregivers and residents of the Morrow Home in Sparta.
Jane was preceded in death by her husband Everett in 1995; two sons, Michael E. Giese, in the Vietnam War in 1971, and William J. Giese, in 1989; her siblings, Helen Schmitz, Louise Pearse, Daniel Sullivan, Jeremiah Sullivan, Lucille Schermerhorn, Myrtle Thomas, Sister Gertrude Sullivan, Dorothy Pipp, Caroline Bertoline, Tom Sullivan, and Roger Sullivan; two infant grandsons, James Ross Downing and John Gerald Downing; and a grandson-in-law, Jarret Luethe. 
A Mass of Christian Burial will be at 11 a.m. Saturday, Nov. 3, at the Nativity of the Blessed Virgin Mary Catholic Church on St. Mary's Ridge, Wis. Father Michael Klos will officiate. Burial will follow in the church cemetery. Visitation will be held Friday, Nov. 2, beginning at 3:45 p.m. with a prayer service and concluding at 7 p.m. at the Torkelson Funeral Home in Ontario. Visitation will also be held Saturday from 10 am. until the time of service at the church. The Torkelson Funeral Home of Ontario is assisting the family with arrangements. Online condolences may be offered at www.torkelsonfuneralhome.com.