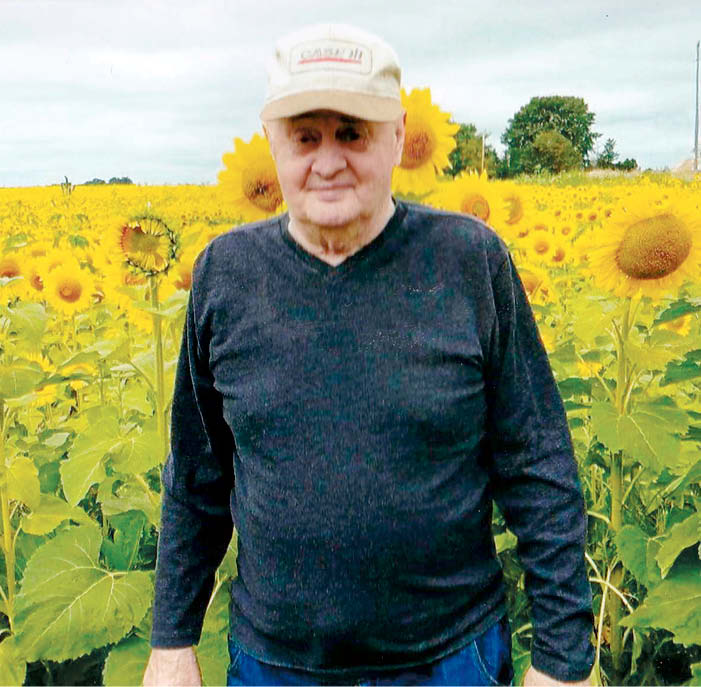 Leonard O. Degenhardt Jr., 75, of Norwalk passed away peacefully, surrounded by his adoring daughters, on Wednesday, Jan. 2, 2019, at the Bland Bekkedal Center for Hospice in Viroqua.
Junior was born Nov. 24, 1943, to Leonard Sr. and Margaret (Schmitz) Degenhardt. He graduated from Norwalk High School. In 1965, he was drafted in the U.S. Army and was stationed in Germany. When he returned, he began working at Coca-Cola in La Crosse and eventually returned to Norwalk to work in the family-run business, Degenhardt Implement, where he worked as the parts manager.
Junior was a fixture in Norwalk, one of the good ole boys whom everyone knew and loved. He was a lifelong member of St. Augustine Catholic Church, plus he was a faithful and active member of the American Legion, Lions Club and Rod & Gun Club, all in Norwalk. He loved his time working with his brothers on the annual Norwalk Tractor Pull.
In his retirement, he was the handyman for his neighborhood. Family, friends and neighbors could count on Junior to help with their lawns and gardens or to clear some snow from their sidewalks. Junior loved riding his bike to work and on the bike trail for Thirsty Thursday picnics on the bike trail up at Summit. These get-togethers with his family were some of his favorite happy times.
Junior was married to Leona Rynes, and together they had five daughters, who were the apple of their dad's eye. He adored time spent with his girls: watching sporting events, seeing their children grow up, playing games, and doting on his daughters as much as he possibly could.
Junior is survived by his daughters, Tracy (Todd) Clark of Wilton, Tammy (David) Degenhardt-Roels of Viroqua, Tiffany (Shawn) Wallace of Ontario, Tara (Matt) Orlikowski of Norwalk, and Kimberly (Larry) Lloyd of Jackson, Mich.; 10 brothers and sisters, Gene (Connie Nakoul) Degenhardt of Norwalk, Reuben (Shirley) Degenhardt of Norwalk, Susan (Robert) Zietlow of Brea, Calif., Arnie (Suann) Degenhardt of Norwalk, Gina (Pete) Pederson of Onalaska, Rita (David) Herlitzke of La Crosse, Bill (Julie) Degenhardt of Norwalk, Madonna (John) Campion of Clearwater, Fla., Glen (Gloria) Degenhardt of Norwalk, and Michael Degenhardt of Bangor; 18 grandchildren; the mother to his girls, Leona (Mark "Bob") Zielsdorf of Sparta; along with many nieces, nephews, other relatives and friends.
Junior was preceded in death by his parents, Leonard and Margaret, and his special "adopted mom," Marilyn Nofsinger.
A Mass of Christian Burial will be at 11 a.m. Saturday, Jan. 5, at St. Augustine Catholic Church in Norwalk. Father Michael Klos will officiate. Burial with full military honors will be held in the church cemetery in rural Norwalk. Family and friends are invited for visitation Friday, Jan. 4, beginning with a eulogy and prayer at 4 p.m. and concluding at 7 p.m., all at St. Augustine Catholic Church in Norwalk. Visitation will also be held Saturday from 10 a.m. until the time of service at the church.
The Torkelson Funeral Home is assisting the family with arrangements. Memorials may be given in Leonard (Jr.'s) name to Vernon Memorial Hospice in Viroqua. Online condolences may be left at www.torkelsonfuneralhome.com.