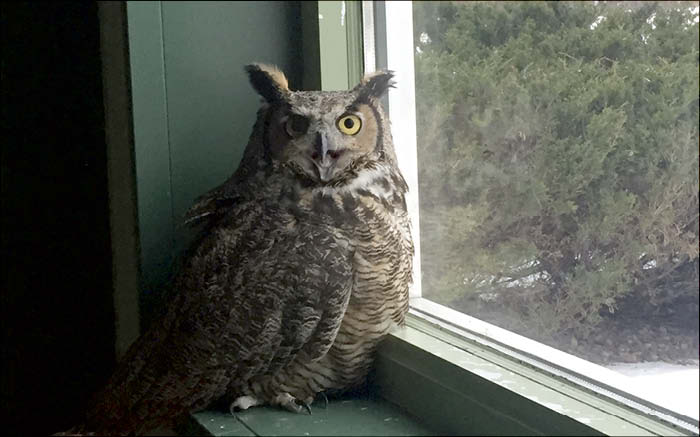 By KAREN PARKER
County Line Publisher Emeritus
It appears we have some tentative good news on the health and welfare of Mr. Owl, the great horned owl that was shot in Wilton in October and whose recovery at the Coulee Region Humane Society the County Line has been tracking.
According to Kathy KasaKaitas, animal control officer, she put Mr. Owl in a meeting room on Monday evening. Did you know owls have meeting rooms? There was no indication if the meeting room came with coffee, notepads, and white boards.
Whatever the case, this is her most recent report:
"Here he is in the window, watching out when I got to work this morning. I guess he enjoyed his night in the big room. He had plenty of safe space to exercise and had some items for stimulation, as he's been in a small recovery kennel for a long time. When I let him go in the room, he did fly very low to the other side of the room and landed. Then he was able to jump/fly up to the desk top and window sill. The picture on the wall was crooked, so I know he got up that high at some point. More exercise will tell on his recovery. I also had another vet look at the wing this morning, and we are doing a little different treatment to see if it helps any. Thank to the community for being so kind."
Just a reminder: Mr. Owl has had a long recovery due to the carelessness of someone in or near Wilton. He would appreciate a Christmas card. And if you would like to throw in a few bucks to help defray the cost of his recuperation, then send it to Mr. Owl, CouleeRegion Humane Society, Animal Control Department, 911 Critter Court, Onalaska, WI 54650.