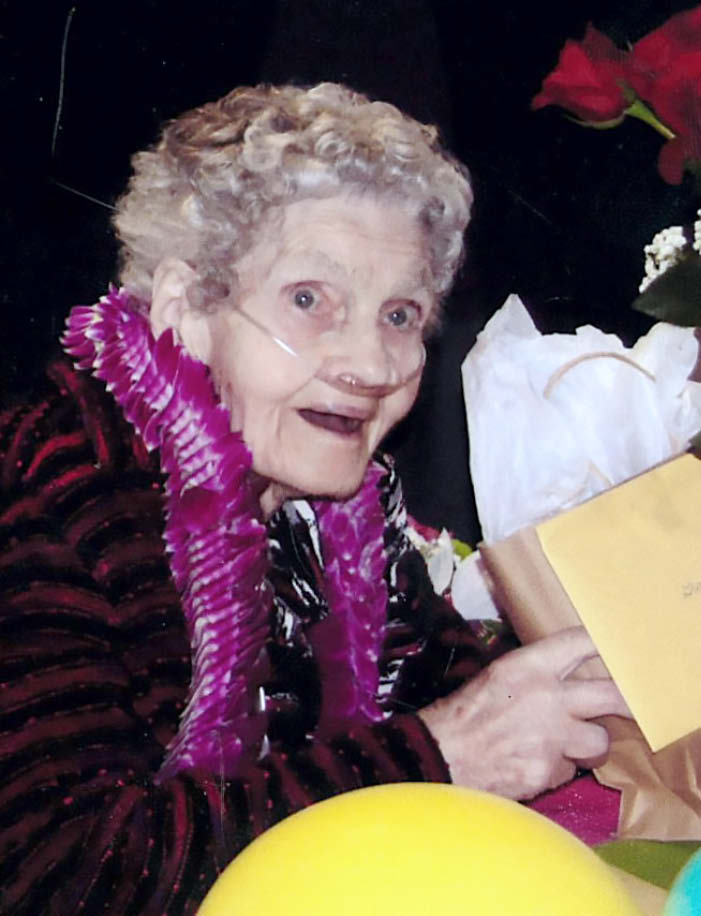 Elna Arndt (Leland), 100, of Wilton passed away Monday, April 17, 2017, at her daughter's home in Hillsboro. 
Elna was born April 2, 1917, in the town of Whitestown in Vernon County to Marcus Leland and Alma (Markgraf) Leland and was baptized and confirmed in the Salem Methodist (Spring Valley) Church. She attended the rural Spring Valley School and graduated from the Norwalk High School in 1938. Elna attended Sparta Business College, but jobs were very scarce, so she stayed at home and helped her parents with farming. 
Elna married William Arndt on June 7, 1938, and was blessed with three children. She worked at Tillman Produce for several years, mainly in the hatchery department. Over the years, she and her husband fostered 27 children through Monroe County. There was always time for flowers, gardening, yard work and especially family during her life. 
Elna was a member of St. Paul's Lutheran Church in Wilton and the Wilton ELCA Women's Group, which she attended and served while she was able.
Elna is survived by three children, William Arndt (Sandra) of St. Cloud, Minn., Larry (Cindy) Arndt of Lihue, Hawaii, and Judith (Terry) Sosinksy of Hillsboro.
She is also survived by one sister, Joyce Pederson of Houston, Texas; and six grandchildren, Pastor William T. (Heidi) Arndt of Simpsonville, S.C., Pamela (Pastor Edward) Francis of Littleton, Colo., Jennifer (Mark) Pixomatis of St. Cloud, Minn., Joel (Lori) Arndt of Wilton, Justin (Kristin) Arndt of Wilton, and Pastor Dawn (Pastor Brad) Lindberg of Tomah.
There are seventeen great-grandchildren, Adam and Amanda Francis, Trenton, Torie, and Tava Pixomatis, Andrew and Delia Lindberg, Courtney, Britanni, Will and Johnathan Arndt, April, Addison, Avery and August Arndt, and Miranda, Linus, and Daphne Arndt; three step-grandchildren, Nicholas Hutson of Chicago, Kate Hutson of Minneapolis, and Jessica Polakowski of Brooklyn, Wis.; along with many friends. 
She was preceded in death by her parents; her husband, William in 1985; her brothers, Victor and Orvis Leland; her brother-in-law, Eldon Pederson; her sister-in-law, Althea Leland; her daughter-in-law, Donna Arndt; and her nephew, Gene Pederson. 
A funeral service will be at 11 a.m. Friday, April 21, at St. Paul's Lutheran Church, 401 Mill St., Wilton. Pastor Kristen Wendland will officiate. Burial will be in St. Paul's Lutheran Cemetery. Relatives and friends are invited for a time of visitation on Friday from 9 a.m. until the time of the service. Online condolences may be given at www.sonnenburgfamilyfh.com. The Smith-Nelson Funeral Home in Wilton is assisting the family with arrangements.