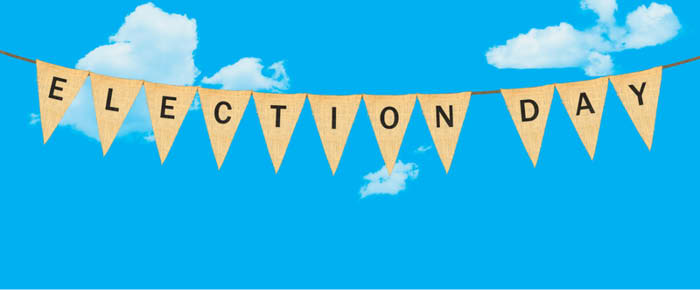 In line with the national trend, voter turnout in the County Line's readership area was exceptionally high Tuesday, ranging from 70–84 percent.
In contrast, 2016's presidential election resulted in consistently lower participation, according to data from the Wisconsin Elections Commission. Then, voter turnout in Kendall was 55.22 percent; Norwalk, 46.12 percent; Ontario, 50.26 percent; Wilton, 63.51 percent; town of Clifton, 52.47 percent; town of Forest, 52.94 percent; town of Glendale, 57.06 percent; town of Ridgeville, 65.19 percent; town of Sheldon, 47.79 percent; town of Wellington, 53.96 percent; town of Whitestown, 61.54 percent; and town of Wilton, 38.29 percent. Statewide, voter turnout was 67.34 percent in the general election in 2016; nationwide, it was 60 percent.
The following is a local breakdown of election results. Incumbents' names are marked with asterisks.
VILLAGE OF KENDALL
• Voter turnout — 151 of 214 registered voters (70 percent)
• Senate — Leah Vukmir (R), 68, and Tammy Baldwin (D)*, 80
• Third Congressional District — Steve Toft (R), 62, and Ron Kind (D)*, 86
• Governor — Scott Walker/Rebecca Kleefisch (R)*, 80; Tony Evers/Mandela Barnes (D), 67; Phillip Anderson/Patrick Baird (Libertarian Party), 1; and Maggie Turnbull/Wil Losch (I), 1
• Attorney General — Brad Schimel (R)*, 75; Josh Kaul (D), 69; and Terry Larson (Constitution Party), 2
• Secretary of State — Jay Schroeder (R), 70, and Doug La Follette (D)*, 76
• State Treasurer — Travis Hartwig (R), 70; Sarah Godlewski (D), 69; and Andrew Zuelke (Constitution Party), 2
• 17th Senate District — Howard Marklein (R)*, 76, and Kriss Marion (D), 68
• 50th Assembly District — Tony Kurtz (R); Arthur L. Shrader (D), 64; and James Kruse (I), 2
• Monroe County Sheriff — Wes Revels (R), 85, and Jeff Schwanz (D), 63
• Clerk of Courts — Shirley K. Chapiewsky (R), 116
• Dark-store referendum — 85, yes; 57, no
VILLAGE OF NORWALK
• Voter turnout — 177 of 241 registered voters (73 percent)
• Senate — Leah Vukmir (R), 70, and Tammy Baldwin (D)*, 105
• Third Congressional District — Steve Toft (R), 63, and Ron Kind (D)*, 112
• Governor — Scott Walker/Rebecca Kleefisch (R)*, 84; Tony Evers/Mandela Barnes (D), 87; Phillip Anderson/Patrick Baird (Libertarian Party), 1; Michael J. White/Tiffany Anderson, 2; and Maggie Turnbull/Wil Losch (I), 1
• Attorney General — Brad Schimel (R)*, 80, and Josh Kaul (D), 81
• Secretary of State — Jay Schroeder (R), 76, and Doug La Follette (D)*, 95
• State Treasurer — Travis Hartwig (R), 81, and Sarah Godlewski (D), 83
• 96th Assembly District — Loren Oldenberg (R), 98, and Paul Buhr (D), 79
• Monroe County Sheriff — Wes Revels (R), 84, and Jeff Schwanz (D), 87
• Clerk of Courts — Shirley K. Chapiewsky (R), 151
VILLAGE OF ONTARIO
• Voter turnout — 152, with 17 new registrations, of 215 registered voters (71 percent)
• Senate — Leah Vukmir (R), 71, and Tammy Baldwin (D)*, 76
• Third Congressional District — Steve Toft (R), 65, and Ron Kind (D)*, 85
• Governor — Scott Walker/Rebecca Kleefisch (R)*, 84; Tony Evers/Mandela Barnes (D), 66; Michael J. White/Tiffany Anderson, 1; and Maggie Turnbull/Wil Losch (I), 1
• Attorney General — Brad Schimel (R)*, 71; Josh Kaul (D), 67; and Terry Larson (Constitution Party), 8
• Secretary of State — Jay Schroeder (R), 74, and Doug La Follette (D)*, 73
• State Treasurer — Travis Hartwig (R), 71; Sarah Godlewski (D), 67; and Andrew Zuelke (Constitution Party), 7
• 96th Assembly District — Loren Oldenberg (R), 76, and Paul Buhr (D), 71
• Vernon County Sheriff — John Spears (R)*, 131
• Vernon County Coroner — Betty Nigh (R)*, 125
• Vernon County Clerk of Courts — Sheila Olson (R)*, 127
• Dark-store referendum — 88, yes; 48, no
VILLAGE OF WILTON
• Voter turnout — 196 of 270 registered voters (73 percent)
• Senate — Leah Vukmir (R), 71, and Tammy Baldwin (D)*, 119
• Third Congressional District — Steve Toft (R), 68, and Ron Kind (D)*, 122
• Governor — Scott Walker /Rebecca Kleefisch (R)*, 87; Tony Evers/Mandela Barnes (D), 103; Michael J. White/Tiffany Anderson (Green Party), 3; Margie Turnbull/Wil Losch (I), 2; and Arne Enz (Wisconsin Party), 1
• Attorney General — Brad Schimel (R)*, 85; Josh Kaul (D), 95; and Terry Larson (Constitution Party), 8
• Secretary of State — Jay Schroeder (R), 78, and Doug La Follette (D)*, 112
• State Treasurer — Travis Hartwig (R), 71; Sarah Godlewski (D), 105; and Andrew Zuelke (Constitution Party), 11
• 96th Assembly District — Loren Oldenberg (R), 91, and Paul Buhr (D), 111
• Monroe County Sheriff — Wes Revels (R), 78, and Jeff Schwanz (D), 104
• Clerk of Courts — Shirley K. Chapiewsky (R), 149
• Dark-store referendum — 115, yes; 68, no
TOWN OF CLIFTON
• Voter turnout — 189 of 253 registered voters (75 percent)
• Senate — Leah Vukmir (R), 95, and Tammy Baldwin (D)*, 92
• Third Congressional District — Steve Toft (R), 87, and Ron Kind (D)*, 100
• Governor — Scott Walker/Rebecca Kleefisch (R)*, 109; Tony Evers/Mandela Barnes (D), 76; Phillip Anderson/Patrick Baird (Libertarian Party), 1; and Maggie Turnbull/Wil Losch (I), 2
• Attorney General — Brad Schimel (R)*, 106; Josh Kaul (D), 78; and Terry Larson (Constitution Party), 4
• Secretary of State — Jay Schroeder (R), 105, and Doug La Follette (D)*, 82
• State Treasurer — Travis Hartwig (R), 107; Sarah Godlewski (D), 68; and Terry Larson (Constitution Party), 11
• 17th Senate District — Howard Marklein (R)*, 109, and Kriss Marion (D), 79
• 50th Assembly District — Tony Kurtz (R), 110; Arthur L. Shrader (D), 68; and James Krus (I), 9
• Monroe County Sheriff — Wes Revels (R), 121, and Jeff Schwanz (D), 64
• Clerk of Court — Shirley K. Chapiewsky (R), 153
• Dark-store referendum — 125, yes; 47, no
TOWN OF FOREST
• Voter turnout — unavailable
• Senate — Leah Vukmir (R), 111, and Tammy Baldwin (D)*, 102
• Third Congressional District — Steve Toft (R), 101, and Ron Kind (D)*, 109
• Governor — Scott Walker/Rebecca Kleefisch (R)*, 132; Tony Evers/Mandela Barnes (D), 78; Phillip Anderson/Patrick Baird, 1; and Michael J. White/Tiffany Anderson, 1
• Attorney General — Brad Schimel (R)*, 124; Josh Kaul (D), 87; and Terry Larson (Constitution Party), 1
• Secretary of State — Jay Schroeder (R), 119, and Doug La Follette (D)*, 93
• State Treasurer — Travis Hartwig (R), 122; Sarah Godlewski (D), 89; and Andrew Zuelke (Constitution Party), 2
• 96th Assembly District — Loren Oldenberg (R), 122, and Paul Buhr (D), 90
• Vernon County Sheriff — John Spears (R)*, 184
• Vernon County Coroner — Betty Nigh (R)*, 179
• Vernon County Clerk of Courts — Sheila Olson (R)*, 178
• Dark-store referendum — 129, yes; 75, no
TOWN OF GLENDALE
• Voter turnout — 295 of 350 registered voters (84 percent)
• Senate — Leah Vukmir (R), 170, and Tammy Baldwin (D)*, 120
• Third Congressional District — Steve Toft (R), 170, and Ron Kind (D)*, 125
• Governor — Scott Walker/Rebecca Kleefisch (R)*, 188; Tony Evers/Mandela Barnes (D), 98; Philip Anderson/Patrick Baird (Libertarian), 5; Michael J. White/Tiffany Anderson (Green Party), 1; and Michael Turnbull/Wil Losch (I), 3
• Attorney General — Brad Schimel (R)*, 196; Josh Kaul (D), 89; and Terry Larson (Constitution Party), 10
• Secretary of State — Jay Schroeder (R), 200, and Doug La Follette (D)*, 92
• State Treasurer — Travis Hartwig (R), 191; Sarah Godlewski (D), 89; and Andrew Zuelke (Constitution Party), 11
• 17th Senate District — Howard Marklein (R)*, 197, and Kriss Marion (D), 95
• 50th Assembly District — Tony Kurtz (R), 198, and Arthur L. Shrader (D), 80
• Monroe County Sheriff — Wes Revels (R), 202, and Jeff Schwanz (D), 49
• Monroe County Clerk of Courts — Shirley K. Chapiewsky (R), 138
• Dark-store referendum — 211, yes; 73, no
TOWN OF RIDGEVILLE
• Voter turnout — 233 of of 289 registered voters (81 percent)
• Senate — Leah Vukmir (R), 122, and Tammy Baldwin (D)*, 110
• Third Congressional District — Steve Toft (R), 106, and Ron Kind (D)*, 126
• Governor — Scott Walker/Rebecca Kleefisch (R)*, 134; Tony Evers/Mandela Barnes (D), 97; and Phillip Anderson/Patrick Baird (Libertarian Party), 1
• Attorney General — Brad Schimel (R)*, 126; Josh Kaul (D), 96; and Terry Larson (Constitution Party), 6
• Secretary of State — Jay Schroeder (R), 130, and Doug La Follette (D)*, 99
• State Treasurer — Travis Hartwig (R), 124; Sarah Godlewski (D), 97; and Andrew Zuelke (Constitution Party), 6
• 96th Assembly District — Loren Oldenberg (R), 138, and Paul Buhr (D), 92
• Monroe County Sheriff — Wes Revels (R), 132, and Jeff Schwanz (D), 93
• Monroe County Clerk of Court — Shirley K. Chapiewsky (R), 185
• Dark-store referendum — 184, yes; 37, no
TOWN OF SHELDON
• Voter turnout — 184 of 246 registered voters (75 percent)
• Senate — Leah Vukmir (R), 130, and Tammy Baldwin (D)*, 54
• Third Congressional District — Steve Toft (R), 115, and Ron Kind (D)*, 69
• Governor — Scott Walker/Rebecca Kleefisch (R)*, 133; Tony Evers/Mandela Barnes (D), 49; Michael J. White/Tiffany Anderson (Green Party), 1; and Maggie Turnbull/Wil Losch (I), 1
• Attorney General — Brad Schimel (R)*, 128; Josh Kaul (D), 52; and Terry Larson (Constitution Party), 2
• Secretary of State — Jay Schroeder (R), 129, and Doug La Follette (D)*, 52
• State Treasurer — Travis Hartwig (R), 131, and Sarah Godlewski (D), 50
• 96th Assembly District — Loren Oldenberg (R), 135, and Paul Buhr (D), 46
• Monroe County Sheriff — Wes Revels (R), 140, and Jeff Schwanz (D), 40
• Monroe County Clerk of Courts — Shirley K. Chapiewsky (R), 165
• Dark-store referendum — yes, 112; no, 62
TOWN OF WELLINGTON
• Voter turnout — 229 of 301 registered voters (76 percent)
• Senate — Leah Vukmir (R), 93, and Tammy Baldwin (D)*, 133
• Third Congressional District — Steve Toft (R), 91, and Ron Kind (D)*, 136
• Governor — Scott Walker/Rebecca Kleefisch (R)*, 117; Tony Evers/Mandela Barnes (D), 105; and Michael J. White/Tiffany Anderson (Green Party), 3
• Attorney General — Brad Schimel (R)*, 110; Josh Kaul (D), 111; and Terry Larson (Constitution Party), 6
• Secretary of State — Jay Schroeder (R), 103, and Doug La Follette (D)*, 124
• State Treasurer — Travis Hartwig (R), 102; Sarah Godlewski (D), 112; and Andrew Zuelke (Constitution Party), 8
• 96th Assembly District — Loren Oldenberg (R), 113, and Paul Buhr (D), 110
• Monroe County Sheriff — Wes Revels (R), 132, and Jeff Schwanz (D), 94
• Monroe County Clerk of Courts — Shirley K. Chapiewsky (R), 188
• Referendum to change clerk and treasurer's positions from elected to appointed: 141, yes; 83, no
• Dark-store referendum — 146, yes; 67; no
TOWN OF WHITESTOWN
• Voter turnout — unavailable
• Senate — Leah Vukmir (R), 100, and Tammy Baldwin (D)*, 107
• Third Congressional District — Steve Toft (R), 88, and Ron Kind (D)*, 118
• Governor — Scott Walker/Rebecca Kleefisch (R)*, 103; Tony Evers/Mandela Barnes (D), 105; Philip Anderson/Patrick Baird (Libertarian Party), 1; and Michael Turnbull/Wil Losch (I), 1
• Attorney General — Brad Schimel (R)*, 105; Josh Kaul (D), 94; and Terry Larson (Constitution Party), 2
• Secretary of State — Jay Schroeder (R), 200, and Doug La Follette (D)*, 103
• State Treasurer — Travis Hartwig (R), 97; Sarah Godlewski (D), 99; and Andrew Zuelke (Constitution Party), 5
• 96th Assembly District — Loren Oldenberg (R), 106, and Paul Buhr (D), 101
• Vernon County Sheriff — John Spears (R)*, 169
• Vernon County Coroner — Betty Nigh (R)*, 170
• Vernon County Clerk of Courts — Sheila Olson (R)*, 166
• Referendum — 135, yes; 63, no
TOWN OF WILTON
• Voter turnout — 205 of 279 registered voters (73 percent)
• Senate — Leah Vukmir (R), 112, and Tammy Baldwin (D)*, 93
• Third Congressional District — Steve Toft (R), 102, and Ron Kind (D)*, 103
• Governor — Scott Walker/Rebecca Kleefisch (R)*, 123; Tony Evers/Mandela Barnes (D), 78; Phillip Anderson/Patrick Baird (Libertarian Party), 3; and Maggie Turnbull/Wil Losch (I), 1
• Attorney General — Brad Schimel (R)*, 122; Josh Kaul (D), 75; and Terry Larson (Constitution Party), 5
• Secretary of State — Jay Schroeder (R), 120, and Doug La Follette (D)*, 77
• State Treasurer — Travis Hartwig (R), 122; Sarah Godlewski (D), 72; and Andrew Zuelke (Constitution Party), 5
• 96th Assembly District — Loren Oldenberg (R), 132, and Paul Buhr (D), 68
• Monroe County Sheriff — Wes Revels (R), 120, and Jeff Schwanz (D), 77
• Monroe County Clerk of Courts — Shirley K. Chapiewsky (R), 171
• Dark-store referendum — 124, yes; 71, no