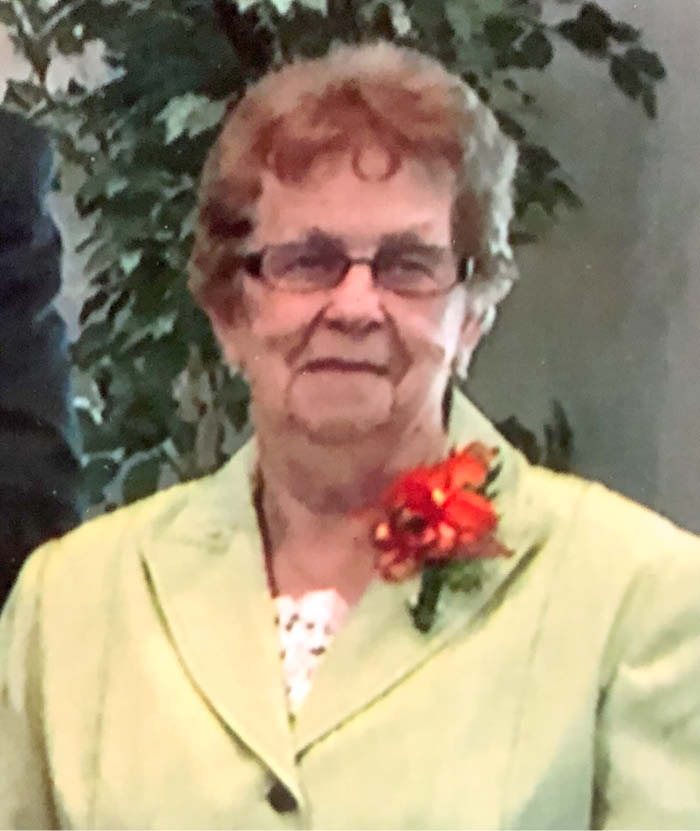 Eleanor Marie (Wagner) Spohn, 89, of Ontario, Wis., passed away at home, surrounded by her loved ones, from a brief battle of lung cancer on Saturday, July 27, 2019.
She was born in Oakdale, Wis., on May 5, 1930, to Reinholt and Beata (Von Haden) Wagner. She was baptized and confirmed at St. Paul Evangelical Lutheran Church in Tomah. She was united in marriage to Chester Spohn on Jan. 19, 1960.
Before moving into town, she and Chet lived on their family dairy farm. While on the farm, she worked outside of their farm at Rolling Hills, Toro, and other work places. After retirement, she enjoyed transporting her Amish friends, sewing and quilting, but most of all, spending time with her family and friends.
Eleanor is survived by her children, Diana Huppert, Gloria Nofsinger, Harold (Renee) Kaiser, David (Jeanette) Kaiser, Beverly (Rich) Haugh, Roy (Mona) Spohn, and Dale (Margie) Spohn; 15 grandchildren; 30 great-grandchildren; 8 great-great grandchildren; several nieces and nephews; her sister, Dory Thomas; and many other friends.
Eleanor was preceded in death by her husband, Chester Spohn; her parents; her sister, Marcella; her brothers, LaVern, Byron, Myron and Delbert; her son-in-law, Ray Nofsinger; and three grandchildren, Paul Winchell, Jim Nofsinger, and Brandon Spohn.
Memorial services will be at 12 p.m. Tuesday, July 30, at the Torkelson Funeral Home in Ontario.  Pastor Bob Streeter will officiate. Burial will follow at the Hilltop Rest Cemetery in Ontario. Family and friends are invited for visitation on Tuesday from 10 a.m. until the time of service at the funeral home.
A special thank-you to Gundersen Hospice Health System and her special Pastor Bob Streeter.
The Torkelson Funeral Home of Ontario is assisting the family with arrangements.  Online condolences may be offered at www.torkelsonfuneralhome.com.