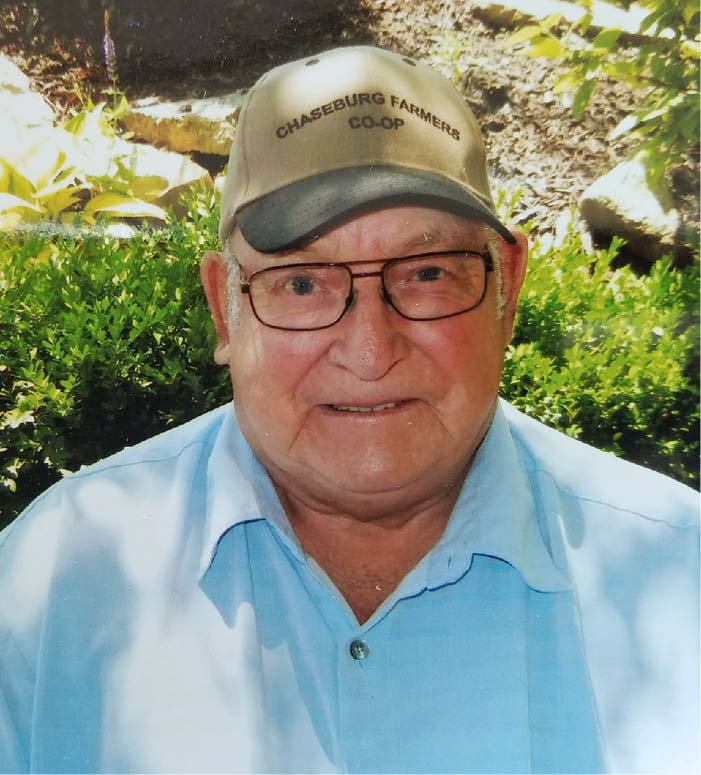 Donald John Schreier, 82, of St. Mary's Ridge, Wis., passed away Friday, March 30, 2018, at his home, surrounded by family.
He was born July 9, 1935, to Anton "Tony" and Regina (Schaub) Schreier on the Schreier home farm on St. Mary's Ridge.
When Donald was 16, he began working with his uncle Frank on his farm, which later became his own. He was born into a farming family and proudly kept the tradition going, earning a Century Farm award and many NFO milk awards. His hands were never idle, and along with farming, he spent a few years working part time for Hoeft Construction.
The ridge was always Donald's home, and his first formal education began at the school on St. Mary' Ridge. He was a proud, lifelong member of the St. Mary's Ridge Catholic Church, and this is where he received all of his holy sacraments as he grew up. On Oct. 3, 1962, he was united in holy matrimony to his best friend, Judith D. Williams.
Besides being devoted to his church and his religion, Donald was active in the Catholic Order of Foresters. For 25 years, he served as Chief Ranger with the Foresters. Donald was active on the St. Mary's School Board, was a trustee on the church council, and drove Amish neighbor friends for over 20 years. Donald lived by the word of the Lord, and if someone needed help, he was there to assist them.
Donald loved his family, and when there was a card game going on, he would be involved. Playing cards, snowmobiling, hunting and being with family and friends were his favorite places to be.
Donald is survived by his wife, Judith; six children, Christine (Kevin) Ritter and their children, Thomas and Rebecca, Edward Schreier, David (Jeannette) Schreier and their daughters, Taylor and Jordan, Brian (Janice) Schreier and their sons, Andrew, Joey and Nolan, Dawn (Joe) DuCharme and their son, Noah, and Jody (Doug) Doebbert and their son, Brandon; his brothers, Norbert and Lambert Schreier; and his sisters, Geraldine (Jim) Schiller and Rita (Lowell) Verkler.
Donald was preceded in death by his parents and his siblings, Dorothy Schreier, Julia Leis, Paul Schreier, Darlene Wolfe and Lavern "Butch" Schreier. 
A Mass of Christian Burial will be at 10:30 a.m. Tuesday, April 3, at the Nativity of The Blessed Virgin Mary Catholic Church on St. Mary's Ridge, Wis. Father Michael Klos will officiate. Burial will follow in the church cemetery. Visitation will be at the church from 4–8 p.m. Monday, April 2. They will conclude with a rosary at 8 p.m. Visitation will be from 9:30 to 10:30 a.m. Tuesday at the church. 
The Torkelson Funeral Home of Cashton is assisting the family with arrangements. Online condolences may be offered at www.torkelsonfuneralhome.com.