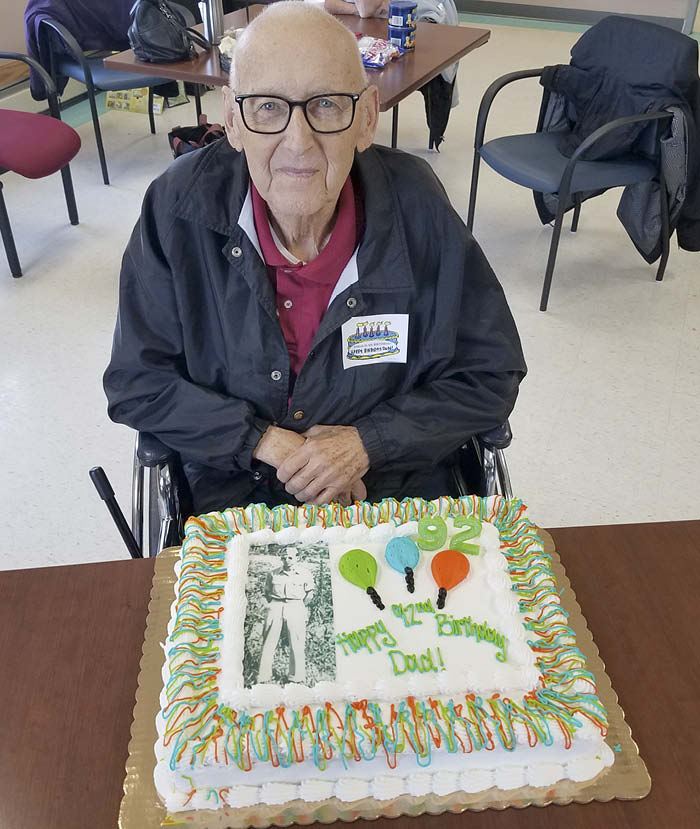 Don E. Jones, 92, of Ontario passed away Sunday, Nov. 26, 2017, at the Norseland Nursing Home in Westby.
He was born Nov. 19, 1925, in Ontario to Wayne and Clara (Palen) Jones. On June 1, 1948, he married Ruby Hutchens.
Don served in the Army Air Corp. from Sept. 9, 1943, to March 5, 1946. Part of his service time was as a driver on the Burma/Ledo Road in Southeast Asia.
Don and Ruby owned and operated a mink ranch in Ontario. Don also worked at Northern Engraving in Sparta as a quality-control supervisor.
Don was an active member in the Ontario Development Corporation and was proud of being a 70-year member of the Bredlow-Ewing American Legion Post 467. Don enjoyed the Freedom Honor Flight to Washington D.C. in 2010.
Don is survived by his children, Donna (Dave) Heilman, Vicki (Bob) Muellenberg, Gary (Linda) Jones and Shirley Gibson; his grandchildren, Brian Heilman, Greg (Suzy) Heilman, Kurt (Emilee) Heilman, Todd (Kim) Clark, Jenny (Jeff) Rand, Holly (Andres) Noubleau, Lindsay (Adrian) Ortega, Patrick Jones, Katie (Kyle) Flaten and James Gibson; and his great-grandchildren, Morgan, Evan, Kade, Alexis, Nash and Axel Heilman, Bennett and Ava Clark, Porter and Towner Rand, Violeta Noubleau, and Evelyn and Marjorie Flaten. Don is further survived by one brother-in-law, Merlin Vieth; two sisters-in-law, Betty Hutchens and Kathy (Larry) Fletcher; along with many nieces, nephews, relatives and dear friends.
He was preceded in death by his wife, Ruby, in 2006; his parents; two grandsons, Jeff Heilman and Adam Gibson; and three sisters-in-law and one brother-in-law, Fern Ferries, Maxine Vieth, Ruth Rynes and Larry "Pete" Hutchens.
Funeral services will be at 11 a.m. Friday, Dec. 1, at Grace Community Church in Ontario. Pastor Bruce Milleman will officiate. Burial with full military honors will follow in Hilltop Rest Cemetery in Ontario. Family and friends are invited for visitation from 4–7 p.m. Thursday, Nov. 30, at the Torkelson Funeral Home in Ontario. Visitation also will be held from 9 a.m. until the time of service on Friday at the church. The family has asked that memorials be given in memory of Don to the Brookwood Band Department. Online condolences may be offered at www.torkelsonfuneralhome.com.