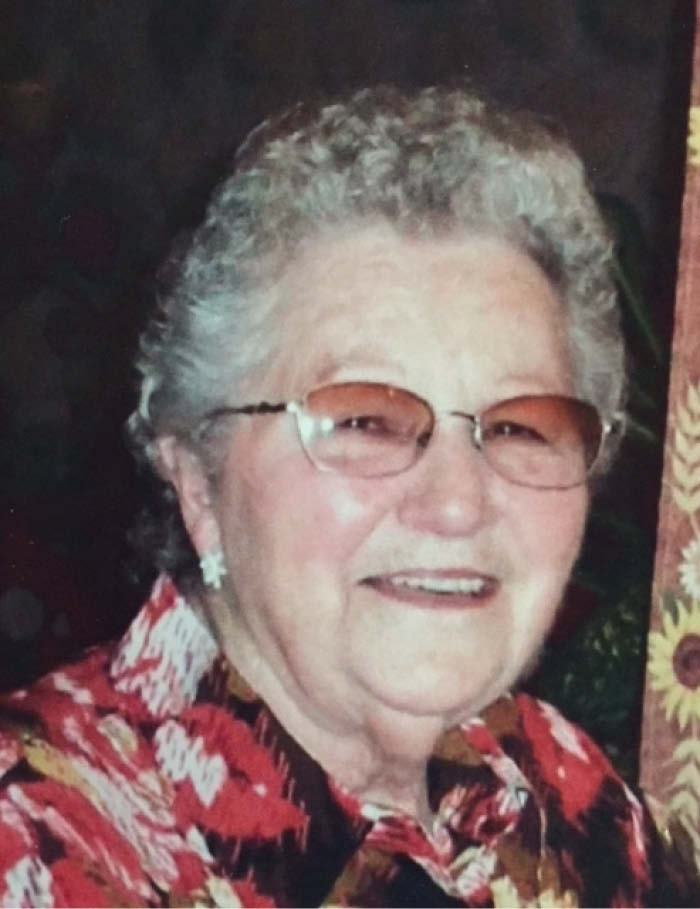 Claudia Odette Bloor, "Odette," 88, of Mount Tabor, Wis., passed away Saturday, Oct. 13, 2018, at the Norseland Nursing Home in Westby.
Odette was born Feb. 19, 1930, to Vern and Naida (Bell) Crouch. She married Doug Burch in 1947; they had four children, Shelia, Gary, Dennie and Timmie. They lived in several states and eventually settled in Franksville, Wis. They later divorced. Odette worked at Briggs and Stratton in Milwaukee for more than 16 years. She later married Paul LeChevalier; he passed away from cancer in 1984. Later Odette met Ronald Bloor; they were married and lived in the Mount Tabor area most of their married life.
Odette is survived by her husband, Ron; her daughter, Shelia (Tom) Nelson of Wind Lake, Wis.; her son, Gary (Linda) Burch of Franklin, Wis.; four grandchildren, Greg (Kannika) Burch of Apple Valley, Minn., Lynelle (Ben) Fischer of Muskego, Wis., Tom Nelson of Wind Lake, and Chris Nelson of Greenfield, Wis.; four great-grandchildren; stepchildren and step-grandchildren, Dan (Carmen) Kiefer and their kids, Heather Coulter, Michael Kiefer and Danielle Schultz, Theresa (Brian) Crawford and kids, Tia and Carter Crawford, and Dee (Robert) Smith and kids, Bobby and Mathew Smith; three sisters, Doris Stockton of North Carolina, Alana New of Dearborn Heights, Mich., and Letitia Thornton of Sparta; along with several sisters- and brothers-in-law, other relatives and dear friends.
Odette was preceded in death by two sons, Dennie and Timmie; her parents; her sisters, Julie Boldon, La Verne Painter and Marlene Griffith; and two brothers, Herb and Terry Crouch.
Odette's family extends a genuine thank you to the special caregivers who took such exceptional care of Odette during the time she was sick. The Norseland Nursing Home and the Vernon Memorial Hospice staff were amazing — thank you!
Funeral services will be at 11 a.m. Friday, Oct. 19, at Grace Community Church, 100 Monroe St., Ontario. Burial will follow in Mount Vernon Cemetery in Hillsboro. Pastor Bruce Milleman will officiate. Family and friends are invited for visitation from 4–7 p.m. Thursday, Oct. 18, at the Torkelson Funeral Home in Ontario. The visitation will conclude with a prayer service at 7 p.m. Visitation also will be held from 10 a.m. until the time of service at the church on Friday. The Torkelson Funeral Home of Ontario is assisting the family with arrangements. Online condolences may be offered at www.torkelsonfuneralhome.com.