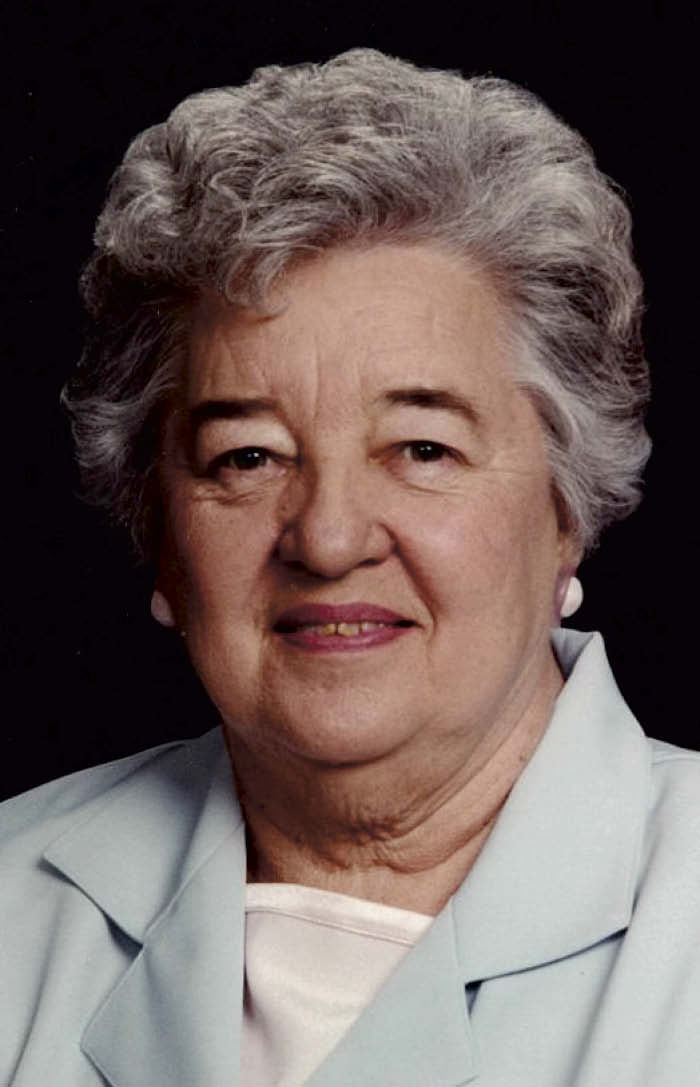 Caroline Ruth Braund, 86, of Kendall passed away Tuesday, July 17, 2018, at Gundersen St. Joseph's Hospital in Hillsboro.

She was born Sept. 2, 1931, on the family farm on South Ridge to Ernest and Linda Siekert. Caroline was baptized and confirmed at St. Matthew's Lutheran Church. She graduated from Kendall High School in 1949. On April 15, 1950, she married Donald E. Braund at St. Matthew's Lutheran Church. They were faithful members of St. Matthew's Lutheran Church and later St. John's Lutheran Church in Kendall. She shared her faith with her family and seven godchildren.

In Caroline's early years, she was a homemaker and mother, and then she started working at Norton Hardware in Kendall. She spent a few years at the Mauston Sewing Factory until she obtained a job with the Elroy-Kendall-Wilton School District. She was first a secretary, and then she became a teacher's aide. Caroline spent 40 passionate years working with children before retiring. Caroline loved working on the family farm with the garden, horses, and chickens. She loved to travel to Branson and made it a yearly trip. Caroline was a charter member of the Jolly Janes Homemakers, American Legion Post 309 Women's Auxiliary in Kendall, Ladies' Aid at St. Matthews and St. John's in later years, and treasurer for many years for the Kendall Public Library Board. Caroline planned the Kendall Labor Day parade and other events for the yearly celebration. Caroline and Don were awarded the Citizen of the Year award in Kendall. She loved to sew, making quilts and clothes. She was a fan of the Milwaukee Brewers.

Caroline enjoyed cooking and baking and had perfected many Norwegian dishes for her husband and family. She had a great talent to make centerpieces and flower arrangements. Caroline leaves her children, grandchildren, and great-grandchildren with many memories and time spent at the farm. She loved people and always had a smile to share with everyone. She prayed for everyone and was a very faithful Christian who knew her Savior, Jesus. Her favorite color was purple, and she always made the holidays special.

She is survived by her husband of 68 years, Donald; children, Daniel (Cathy) Braund of Holmen and Nancy (David) Raiten of Kendall; a daughter-in-law, Ida Braund of Elroy; seven grandchildren and 14 great-grandchildren, Matt (Rachel) Braund of Stoughton, Marci (Mike) Kline and their children, Evan, Ellie, and Macy of Holmen, Aaron (Becki) Braund and their children, Annika, Jozie, Brooke, and Chesney of Prairie du Sac, Wis., Stacey (Dustin) Busby and their children, Olivia, Heston, and Camden of Alcoa, Tenn., Cory (Megan) Braund and their child, Colter of Kendall, James (Crystal) Raiten and their children, Dalton and Hannah of Tomah, and Joseph (Meghan) Raiten and their child, Jocelynn of Onalaska; her brother, Harold (Susan) Siekert of Madison; and many other loving relatives and friends.

She was preceded in death by her parents, Ernest and Linda; her brother, Martin (Corena) Siekert; her sister, LaVerne (Rueben) Zuhlke; her son, Robert Braund; a great-granddaughter, Adaline Rose Raiten; and a special aunt, Elsie Martin.

Funeral services will be at 11 a.m. Saturday, July 21, at St. John's Lutheran Church, Kendall. Pastors Conrad Prell and Larry Neitzel will officiate. She will be laid to rest in Glendale Cemetery in Kendall. Visitation will be Friday, July 20, 4–7 p.m. at St. John's Lutheran Church in Kendall and again Saturday from 10 a.m. until time of services at St. John's Lutheran Church in Kendall. Sonnenburg Family Funeral Home is assisting the family with arrangements. Online condolences can be given at www.sonnenburgfamilyfh.com.