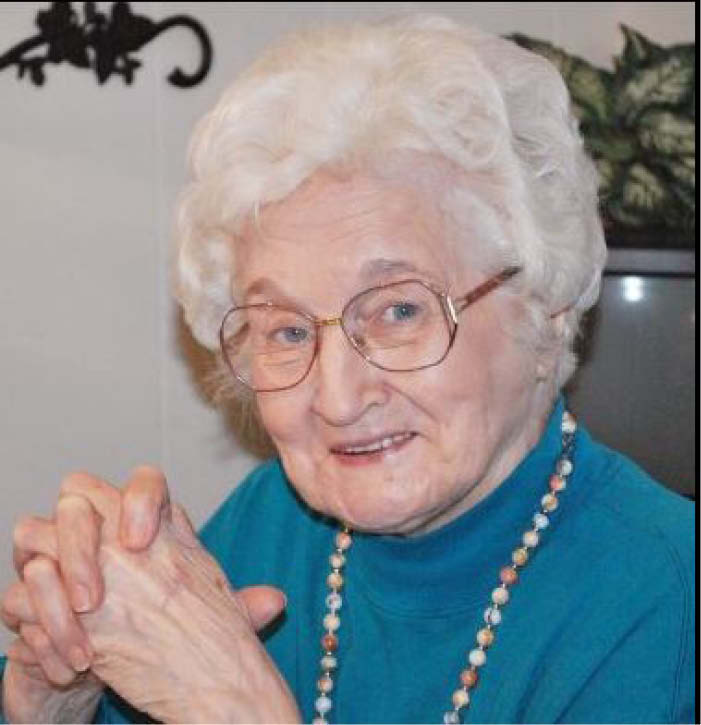 Beverly "Billie" Joyce (Rich) Wood, 89, died peacefully Wednesday, Jan. 18, 2017, at home, surrounded by her family. 
Visitation will be from 2–4 p.m. Saturday, Jan. 28, at Baier Family Funeral Services, 406 E. Pells St., Paxton, Ill. She will be laid to rest "up home" next to her husband in Hilltop Rest Cemetery in Ontario at a later date.
Bev, the oldest of four children, was born Aug. 19, 1927, in Ontario to Kenneth and Alice (Caya) Rich. She married "the only man she ever loved," Benjamin "Jack" Wood," on Aug. 23, 1947, in Caledonia, Minn. He preceded her in death June 24, 1986. Their marriage was blessed with five children.
Bev felt lucky to be a homemaker, allowing her to follow her husband as his career took them throughout the Midwest. Her home, heart and arms were always open allowing her to make and maintain cherished friendships no matter where she lived. She adored her family and treasured being a Mom. She was a room mother, devoted baker, master gardener and landlord. Her grandchildren remember her as a lipstick kisser, storyteller, animal whisperer and skilled game loser.
She is survived by a daughter, Jackie Nygaard of Rantoul, Ill., a son Russ (Karen) Wood of Greenwood, Ind., and a daughter, Lori (Tom) McQuinn of Paxton, Ill.; six grandchildren (who were each convinced they were her favorite), Nikky (Travis) Flesner of Rantoul, Brandi (Shawn) Scott of Greenwood, Ind., Keri Hart of Beech Grove, Ind., Ben (Meagan Kelly) Wood of Villa Grove, Casey McQuinn of Paxton and Kadie (Greg) Van Note of Paxton; 10 great-grandchildren, Hayley Bell, Caya Flesner and Jack Flesner of Rantoul, Ali Scott and Emi Scott of Greenwood, Ind., Cody Hart of Groton, Conn., Sami Hart of Indianapolis, Ind., Evan Wood of Villa Grove, Carter McQuinn of Paxton and Jacey Van Note of Paxton; honorary Grandma to many; a sister, Cathy (David) Brandau of Wilton; two sisters-in-law, Orpha Hughes and Ervilla "Mike" Kyser, both of Viroqua; and many nieces and nephews.
She was preceded in death by her parents; her husband; two sons, Denny Wood and Jeff Wood; a brother, Bud Rich; and a sister, Ardyce Peterson.
The family would like to thank the Transitions Hospice team and offer a heartfelt thank you to caregivers-turned-family-members, Terri Mobley and Jackie Mobley, for their compassion, friendship, and skilled assistance and for making Bev's final days beautiful and peaceful.
Her spirit will always be with us, and her love will live forever in our hearts. We were the light of her life, and she let us know it 'til the end.