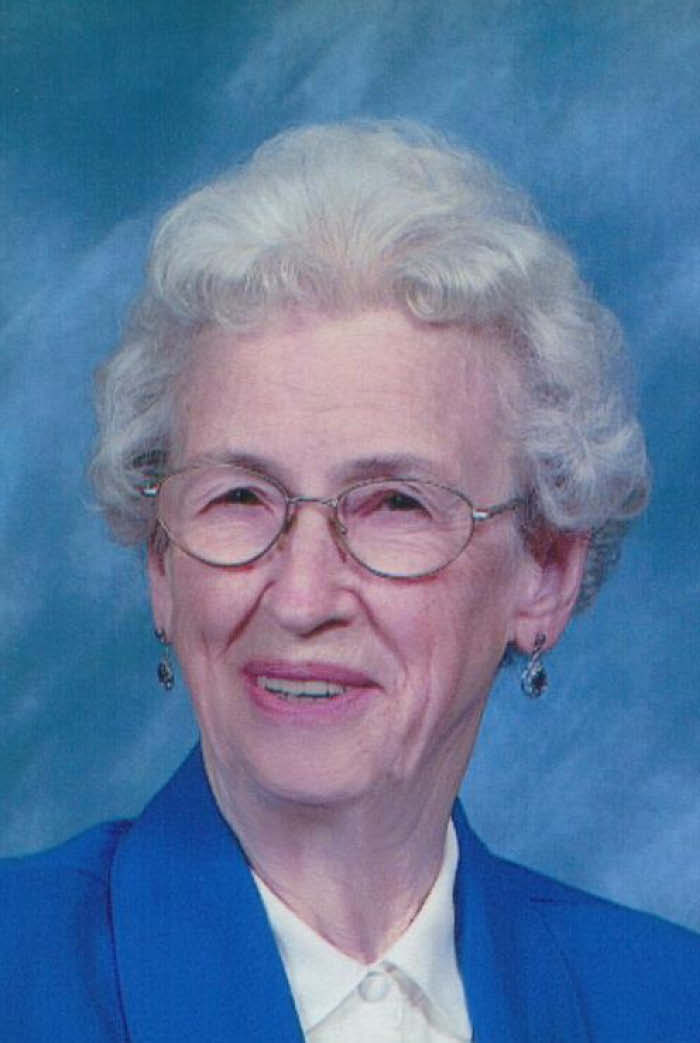 Arline E. Budde, 89, of Wilton died Tuesday, April 10, 2018, at the Mile Bluff Medical Center in Mauston.
She was born Sept. 26, 1928, to Ronald and Dorothy (Domke) Sommerfeldt on the home farm south of Wilton. Arline was baptized and confirmed into the Christian faith at St. Paul's Lutheran Church. She attended the Tunnel Joint and Slab Town Country Schools. Arline was a member of the Wilton High School graduating class of 1947. She was united in marriage to Theron M. Budde on April 16, 1955, at St. Paul's Lutheran Church in Wilton. He preceded her in death July 10, 1999. Together they farmed in the town of Wilton since Aug. 1, 1959. Her son, David, is a third-generation farmer on the family farm.
Arline worked as a banker for many years, working at The F & M Bank in Tomah and as well as the Wilton Bank until her retirement. She belonged to the Dorset Valley Homemakers and served as the treasurer in the Town of Wilton for over 12 years. She was a lifetime, faithful member of St. Paul's Lutheran Church and served on the Ladies Circle.
Arline had beautiful flower gardens and loved to grow glads and irises, plus she loved to feed the birds and raise chickens. She was an excellent cook and will always be remembered for making her homemade bread, doughnuts, and many delicious meals! She was proud grandma and loved sending heartfelt birthday cards. Arline was a relentless servant her whole life; she was always caring and more concerned about her children than herself up until the end. She was the definition of a loving mother.
She is survived by six children, Rosalee (David) Rischette of Wilton, Linda (David) Rego of Elroy, Diane (Dan) Ziehli of Monticello, Wis., Gary (Jennifer) Budde of Kendall, Jodeen (Brian) Nelson of Elroy, and David Budde of Wilton; 13 grandchildren, Paul Rischette, Jacob Rego, Rebekah (fiancée Brad Klipstein) Rego, Rachel Rego, Joshua Rego, Cory (Robin Baldwin) Dutton, Matthew (Chynna Flock) Dutton, James (Jessica Woodruff) Budde, Cole (Dominique) Budde, Carrie (fiancée Dalton Simonson) Budde, Jennifer (Jamie) Perz, Andrew (Brittany) Nelson, and Emily Nelson; four step-grandchildren, Jacob Ziehli, Peter Ziehli, Savannah Ziehli and Shelbe Ziehli; three great-grandchildren, Jackson, Candace, and Jameson; a step-grandson, Eli; two brothers, Gordon Summerfeld of Holmen and Richard (Myrna) Sommerfeldt of Tomah; a sister-in-law, Betty Pohl; three brothers-in-law, Bobby (Ruth) Budde of Clear Lake, Minn., George Budde of Midwest, Okla., and Richard Budde of Rolling Hills Estate, Calif.; and many nieces, nephews, and other relatives and friends.
In addition to her husband, Theron, she was preceded in death by her parents; a son, Paul Alan; and four sisters-in-law, Maxine Turk, Margie Spina, Lila Sommerfeldt and Carol Summerfeld.
A funeral service will be at 3:30 p.m. Saturday, April 14, at St. Paul's Lutheran Church, 401 Mill St., Wilton. Pastor Brad Lindberg and Pastor Bob Waschek will officiate. Burial will be in Dorset Valley Cemetery in the town of Wilton.
Relatives and friends are invited to call from 4–7 p.m. Friday at the Smith Nelson Funeral Home, 702 Center St., Wilton, and from 2:30 p.m. until the time of service Saturday at the church. Online condolences may be sent to www.sonnenburgfamilyfh.com.