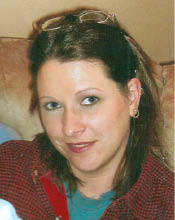 Wendy Sue Downing, 42, of Cashton passed away Sunday, July 15, 2012, after a tragic automobile accident.
Wendy was born May 12, 1970, to Jim and Mary (Schallock) Downing in La Crosse. She graduated from Cashton High School in 1988.
Wendy loved to be surrounded by people and laughter. She loved music, bonfires and talking with friends. But doing activities that her children were involved in was her favorite, and these were times that she cherished. Wendy loved her family with her whole heart.
Wendy is survived by her two children, Kesha and Jeffry Janzen of Cashton; her parents, Mary and Jim Downing of Cashton; her brothers, Wayn (Kim) Downing and Walen (Connie) Downing, both of Cashton; Kesha and Jeffry's father and stepmother, Kurt (Mary) Janzen of Cashton; five nieces, Calista (Jon) Jilek and their children, Jett and Tenley, along with Lauren, Le Ann and Amber Downing and Ashley (Jake) Oium; and other relatives and many friends.
Wendy was preceded in death by her grandparents.
A funeral service was Wednesday, July 18, at the Torkelson Funeral Home in Cashton. Pastors Ellen Rasmussen and Ray Diaz officiated. Burial followed in Moen Cemetery. In lieu of flowers, memorials may be given to the family in Wendy's memory. Online condolences may be offered at www.torkelsonfuneralhome.com.