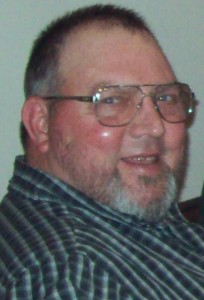 Ray Ransom "Razor" Nofsinger, 63, of Ontario passed away Tuesday, March 27, 2012, at Mayo Hospital in Rochester, Minn., with his family by his side.
Ray was born in Norwalk on June 21, 1948, to James and Merilyn Nofsinger. He was raised on a beautiful farm near Norwalk. Ray graduated from Brookwood High School in 1966. Ray married Gloria Kaiser in 1965. After graduation, Ray and Gloria moved to Janesville, where he worked at General Motors. But Ray was a typical country boy; you could take the boy off the farm but couldn't take the farm out of the boy. He loved the land, and even though he took a job in Janesville, he came back to his real home on the farm every weekend to do what he loved most. They decided to move back to Norwalk so that Ray could farm. He also worked at the foundry for a few years and at Mathy for many years, and, until he retired last year, he was at Toro for 11 years.
Active in the community, Ray was a member of the Norwalk Lions Club and retired from the Norwalk Volunteer Fire Department. One of the most beloved men in town, Ray had a contagious smile and distinctive laugh that warmed the hearts of everyone. His children and grandchildren were the apples of his eye; Ray cherished every moment he spent with them.
Ray is survived by his wife, Gloria, of 46 years; his mother, Merilyn Nofsinger of Norwalk; two of his children, Todd (Kristen Schmitz) Nofsinger of Westby and Lori (Joel) Arndt of Wilton; his grandchildren, Derek (Khrysa Gnewikow) and Alicia Nofsinger (and their mother, Lori Nofsinger), April, Addison, Avery and August Arndt and Aubree Schmitz; his siblings, Lauren (Karen) Nofsinger of Colorado, Dennis (Julie) Nofsinger of Medford, Wis., Merna Nofsinger of Thomaston, Ga., Scott (Cindy) Nofsinger of Norwalk, Ruby Cook of Lufkin, Texas, Kim Neal Nofsinger of Murfreesboro, Tenn., and Brice (Judy) Nofsinger of Ontario; his mother-in-law, Eleanor Spohn of Ontario; his brothers- and sisters-in-law,  Norm Kowitz of Norwalk, Diana Huppert of Janesville, Harold (Renee) Kaiser of La Farge, David (Jeanette) Kaiser of Ontario, Bev (Rich) Haugh of Ontario, Roy (Mona) Spohn of Ontario and Dale (Margie) Spohn of Sparta; along with many wonderful nieces, nephews, other family members and great friends.
Ray was preceded in death by his dad, James Nofsinger; his son, James "Cricket" Nofsinger; a sister, Amy Kowitz; and a brother-in-law, Don Cook.
Funeral services will be at 11 a.m. Saturday, March 31, at the Norwalk Community Center, Norwalk. Darrell Zietlow will officiate. Burial will follow in Wanderer's Rest Cemetery, rural Norwalk. Family and friends are invited for visitation from 4–7 p.m. Friday, March 30, at the Norwalk Community Center. Visitation will also be from 10 a.m. until the time of service Saturday. The Torkelson Page-Smith Funeral Home is assisting the family with arrangements. Online condolences are available at www.torkelsonfuneralhome.com.